The biggest attraction of Sapa are its landscapes of rice fields, the Mount Fansipan, and the ethnic minorities that inhabit these lands. Here are ideas that will help you to better prepare your journey through the province of Lao Cai.
The biggest attraction of Sapa are its landscapes of rice fields, the Mount Fansipan, and the ethnic minorities that inhabit these lands. Here are ideas that will help you to better prepare your journey through the province of Lao Cai.
HIKING AND WALKS
THE MOST KNOWN: Travelers who do not want to get away from the town can begin to discover the treasures of Sapa just 3km away. From your hotel in the center you can enjoy a walk through a fairly popular area called Cat Cat village. Not much further away we find the village of Ta Phin surrounded by rice fields.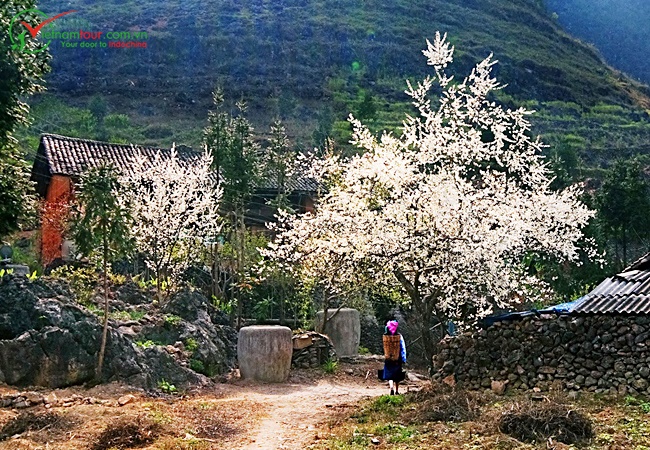 Small village Ta Phin in spring

SOMETHING MORE REMOTE: One of the most beautiful landscapes is obtained from the top of Tram Ton Pass, at about 1,900 meters. It is the route that unites Sapa with Lai Chau. On the same route, you can also see Thac Bac waterfall .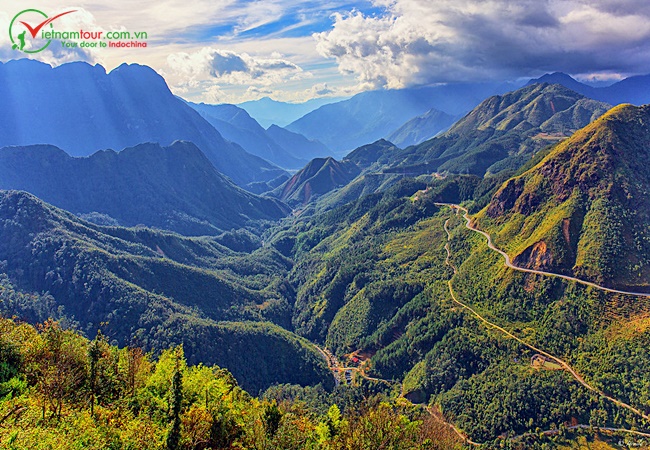 Tram Ton pass
Among other magical places we find Love Waterfal , about 4 km from Sapa, a place to stop and enjoy a romantic setting.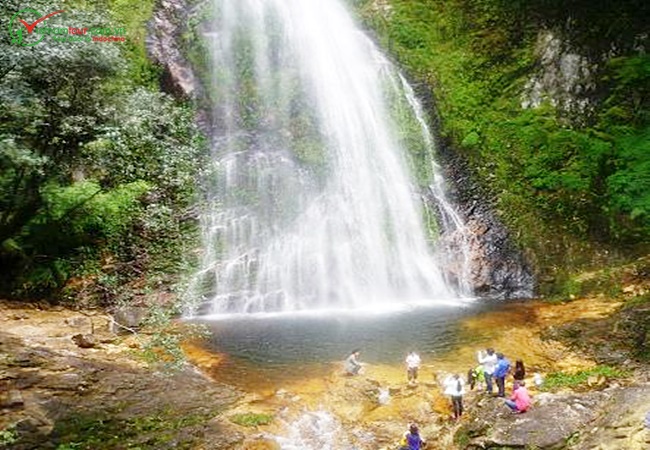 Love Waterfall

We also recommend a visit to O Quy Ho (the name is due to the sound of a bird). It is a mountain pass that crosses National Hoang Lien and links the provinces of Lao Cai and Lai Chau. It is a port of 50km in length. The views are spectacular. It is a little further away from everything, but it's worth it.
Villages such as Thanh Kim, Nam Sai or Nam Cang are corners of northern Vietnam where time is still passing slowly, where the traveler can experience the most local in a place full of peace and natural beauty.
For those who like the type of excursion with trekking, mountain and ethnic groups, Sapa is well worth a couple of nights with three days to discover all its secrets. If you do not have so much time, in two days one night you can take an introduction to what life is like in the mountains of Vietnam.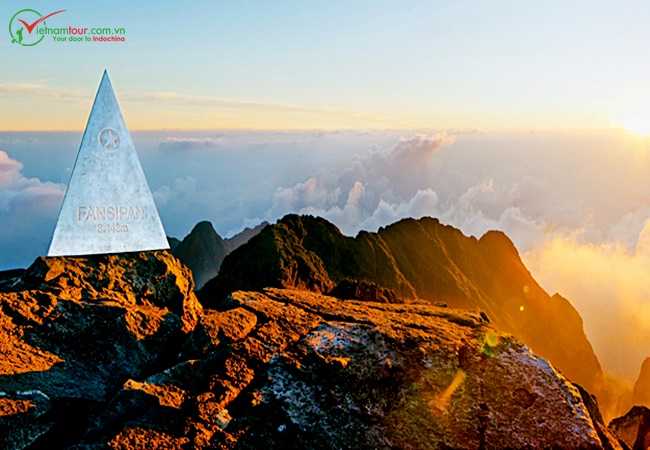 Top of the Mount Fansipan

One of the greatest natural attractions of the province of Lao Cai is the conquest of the peak of Fansipan. This peak attracts Sapa to many mountaineers and trekking experts. At about 3,143 meters high, the Fanispan stands as the highest mountain in Vietnam. From Sapa to the top there are only about 20km, but the climb is hard. An excursion to the Fanispan two days a night can become a very enriching experience.
For those who love photography, and look for the best panoramas Fansipan is not always the best place because, although the climb starts with a beautiful sun and a blue sky, on the way it can rain and the landscape from the top of Vietnam can be Full of clouds.
TRAVEL IN TELEPHERIC
Those who do not see fit to climb up to the Fansipan, also have the opportunity to reach the top with the new cable car. The Vietnamese authorities inaugurated the longest three-cable cable car in the world in the north of the country, with an area of 3,143 meters.
The infrastructure also broke the record of the cable car that climbs the most from its beginning to the end: 1,410 meters.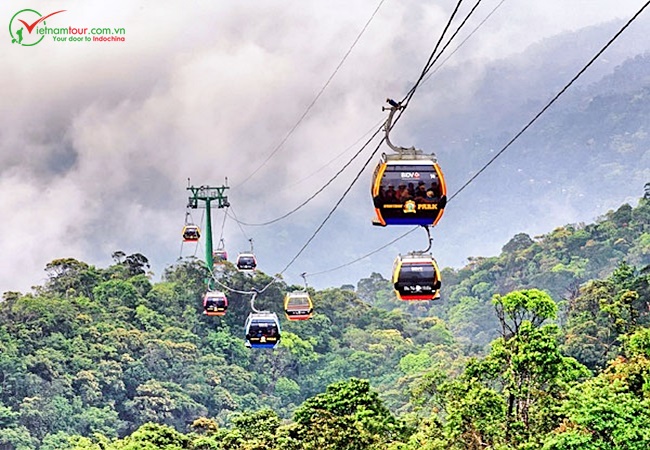 Fansipan's Cable Car

According to the Vietnamese state agency VNA, this system will be able to transport a very large number of passengers, with a capacity for 35 people per cabin. They are 20 minutes journey to what is known as "the roof of Indochina".
Transportation costs around $ 35 USD round trip. It offers great photo opportunities up and down. You have to go with warm clothes and sturdy shoes as you have to walk and climb stairs. For example, from where the funicular leaves you can still ascend something else. And also to take the funicular at the station in Sapa you have to climb a lot of stairs.

DATE A CAPRICHE IN THE HERBAL BATHS IN TA PHIN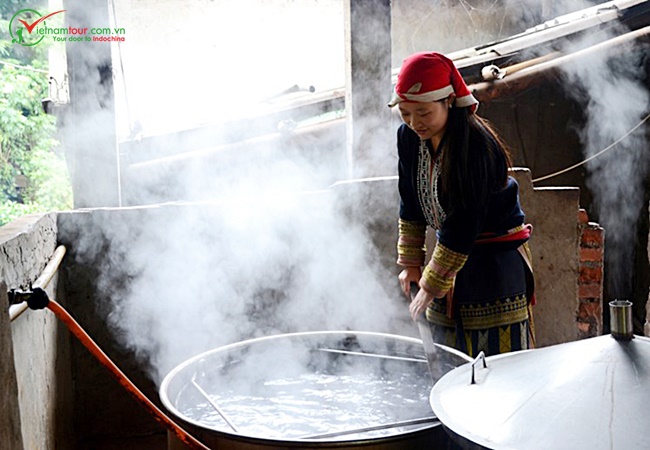 Herbal bath in Ta Phin village
Apart from enjoying the fresh air, the intense fog, the changing sky every minute and its romantic landscape, you can enjoy the best medicinal baths by the hand of the Red Dao.
Local people here, every day enter the forest and cut the medicinal plants because it is believed that they can treat many diseases. The Red Dao boil these plants in a giant wok full of water, over a coal fire.
Each bath includes 120 types of herbs, plants and barks. The herbs are boiled for 3-4 hours at 30-37oC to extract the essence, and then mixed in water. After a preparation of several hours the boiled water is transferred to a wooden barrel. As soon as you enter the room where these baths are taken, you will receive a mouthful of herbal fragrances and you can relax and enjoy this traditional bath in rustic barrels.
If you go through Ta Phin , do not forget to treat yourself and try the traditional mountain herbs baths. The Red Dao of the village of Ta Phin are the specialists in these baths. Visit them!

STAY IN A VIETNAMITE HOME. A UNIQUE EXPERIENCE.
Sapa is famous both for its rugged landscape and also its rich cultural diversity. If you like the trails and get to know other cultures, what better way to do it than spending one or two nights in a real Vietnamese home? Hikes through paddy fields, bamboo forests and remote villages. Know everything through the best hosts.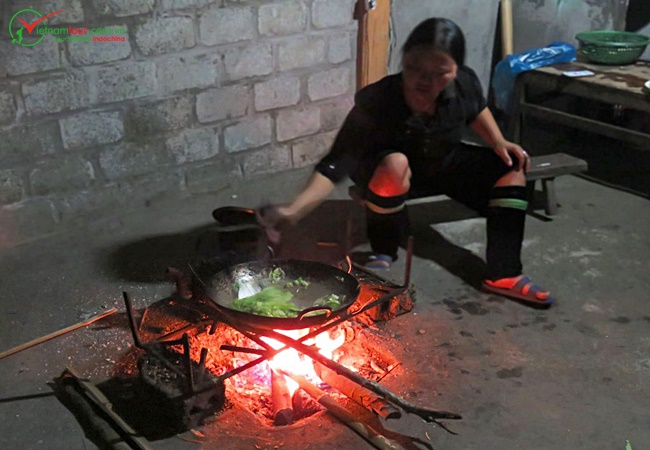 Homestay in Sapa
Routes Vietnam works with some host families that are spread through villages such as Ta Van or Hoang Lien Son . It is one of the best options to promote responsible tourism and support all these families who need resources to survive. Each family accommodation is different and will make you live unique moments if you let yourself go and are respectful of the customs of the place.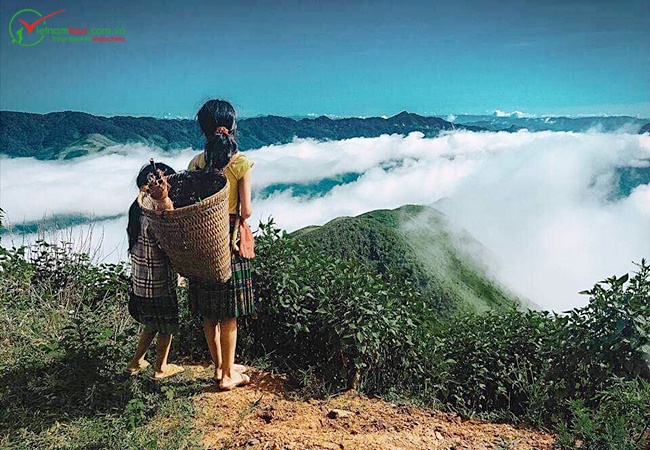 Sapa's child

There are no luxuries and everything is improvised on the fly. In a Vietnamese home, nothing is prepared because you live a day. You will know the warmth and you will be able to enjoy real smiles.

THE EXPERIENCE IN A HOME MORE TRUTHFUL
If you are looking for absolute authenticity in a real home, then the option of a private home is your thing. Cook, eat and share with your hosts and enjoy 100% Vietnamese hospitality. The only way to guarantee a private experience is to stay in a traditional home. These houses are also equipped with a sleeping area and mosquito nets, but the bathroom and toilet facilities are basic. Many households do not have toilets and others have latrines. It's about living in a real home for one or two nights, in your style and with what you have.
The key to enjoying and living this unique experience is that you get involved in everything you can. Cooking, working the field, playing with the children. It is a beautiful experience for example for those who travel as a family. The little ones always like to help, play with other children, dress in the traditional outfits that are so beautiful, and see different customs to theirs. The more you participate, the richer the experience.

VISIT THE NORTHERN MARKETS
The best-known and largest market is that of Bac Ha, closer to Lao Cai than to Sapa. It is very frequented by travelers and tourists and if it coincides with you on Sunday, it is worth getting close. The Northwest of Vietnam offers great opportunities for the curious traveler also in other meeting points such as Can Cau or Long Son. You can organize routes that include visiting one of these markets combined with trekkings and interesting stops.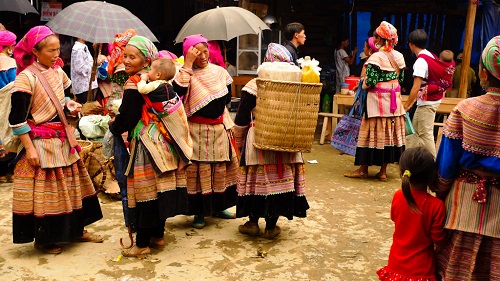 Sapa Market
To visit the markets it is recommended to arrive as soon as possible because that is when you can see the market with more products and more people.
SUNDAYS : THE BAC HA MARKET;
It is the largest market of minority peoples in northwestern Vietnam. Flower Hmong (Red Hmong), Dark Dao, Tay, Nung, La Chi, Phu and other minority groups come from all sides to sell their products and Bac Ha becomes an important social event every Sunday. In the past, the market was a center of commerce where buying horses was important. In addition, it was the most important means of transport, now they have been replaced by motorcycles. Still when you visit the market you can see some buffalo, cows and goats. The market opens at 7.30 in the morning and closes around noon.

MONDAY : MARKET IN PHONG HAI
At the very first hour of the morning. The meeting point is very close to Lao Cao.

TUESDAY : MARKET COC LY
At about 2 hours from Sapa, the visit to this market can be combined with a nice route through the villages and good trekking.

WEDNESDAY : MARKET AND PEOPLE IN CAO SON
It is quite far from Sapa, but visiting this market is worth it for its color and all the people who come. It is smaller than the Bac Ha market, but its location in a valley makes it a special market.

THURSDAY : A MARKET IN THE MOST REMOTE AREA LUN KHAU NHIN
Almost touching China, one of the most remote markets of the province of Lao Cai.

SATURDAY : APPROACH TO THE CAN CAU MARKET.
A market also far from Sapa, about 3 hours. Can Cau is a busy market that is held every Saturday. Located just below the border with China every Saturday a colorful, vibrant market is organized, where you will find people belonging to the Flower Hmong (Red Hmong), Nung, Phu and Chinese who live on the border. All kinds of products are marketed here, from different types of tissues, vegetables and the powerful local wine.

SOME CODES OF CONDUCT FOR THE VISIT OF SAPA
WHEN YOU TRAVEL, NEVER FORGET THAT "WHERE YOU ARE, DO WHAT YOU SEE"
There are no strict codes of conduct to follow if you are traveling through the province of Lao Cai, but it is always convenient to remember some behaviors.
The photos: the children who live on this side of Vietnam, are beautiful, like all children in the world, but always like to photograph faces of children who do not pose for the photo and are so natural. The truth is that some already ask for money to take a picture, and one feels a little disappointed. In the villages, although the adults do not dare to say anything, they do not like much when they photograph their children. Therefore, it is best to ask permission. The camera is shown and a gesture is made asking if you can or can not. Whenever you act with respect, there are usually no problems.
The guide will help you: People of the ethnic groups that are not used to tourism, are rather shy. The guide is the one who can help you better to introduce you a little into your world. Always ask for advice. The local guides have been born in these lands and will know how to explain what is right and wrong.
Enjoy the trails where the rice fields will accompany you, conquer the Fansipan and live a unique experience in a Sapa home; get lost on a motorbike and be regenérate with baths based on medicinal herbs. In short, let yourself be seduced by the charm of Sapa by the hand of Rutas Vietnam.

WHERE TO EAT IN SAPA?

Son Nhi restaurant in Sapa to get blind to salmon (Ca hoi in Vietnamese, Ca is fish).
Cha Pa Garden restaurant in the village of Sapa for a delicious lunch and a good coffee. It is a charming establishment.
Indigo restaurant in the center of Sapa if you want a mix of local and European food of good quality.
Red Dao Sapa a cozy restaurant with very good Vietnamese food.