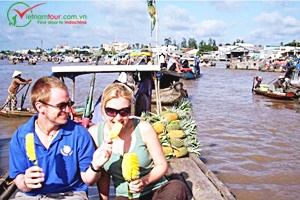 The program will start with the visit of C
ai Be colorful floating market
cruising among local barges full of fruits and vegetables.
It is so interesting to visit the
handicraft village
where you can see how they make some special products: making rice-net for spring-rolls, fish sauce & Soya sauce, cooking salt, sewing coconut-leaves for cottage roof...
Then, an optional stop can be made at local workshops where you can see how to make rice paper, coconut candy and pop-rice,
pop-corn ....
A delicious lunch will be served at an
ancient house over 170 years old.
After lunch, the rowing boat will take you deeper into the countryside on smaller canals and
to
enjoy the peaceful time. It is so interesting to see
traditional houses
made of wood and
palm tree leaves
and see some activities of the
local farmers
with an opportunity to make contacts with them and see how they
catch fish or pick up fruits
by ancestral ways in
Mekong Delta..
One more option for you if you like biking around the village on the narrow paths
The cruise will end at Cai Be pier. Back to Ho Chi Minh city.