Located in the Truong Son mountain range 25 km to the SW of Da Nang at an altitude of 1487m and one hour by road from Da Nang lies the Ba` Na` mountains. Its temperate climate, unspoiled forest, and spectacular views over the city of Da Nang's awe-inspiring bay and the Lao mountain range made Ba` Na` a past popular place to retreat for the French. Today the area still attracts locals and tourists alike.
Departure location: Pick up and drop off: Da Nang centre (other places upon request)
Departure time: 7.30-8.00
Duration: 8-9 hours
Group tour price: US$ 65/person 
Group tour ( Minimum for group of 2 people) ( Private tour upon request)
Best time to visit : Jan, Feb, Mar, Apr, May, June, July, Aug, Sep
The Golden Bridge in Ba Na Hills is the main point of this trip, you spend longest time here.
Da Nang – Ba Na Hills – Golden Bridge – Da Nang (L)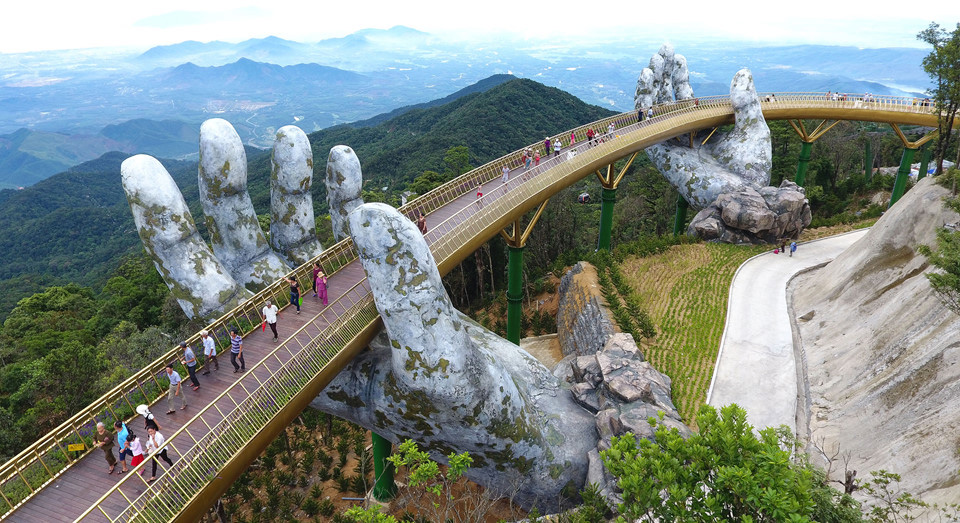 07:00 - 08:00: Pick up guests at HOTELin Da Nang, depart to Ba Na hills
09:00: Arrive at the cable car station Hoi An. Sitting in the cabin, in midair, looking upon the endless tree lone of the forest. Experiencing the pristine ecological system of the Ba Na mountain will leave you a sense of unforeseeable discovery.
09:30: Visit the Le Jardin, old wineries - remains of French Villas and Linh Ung pagoda with 27m high Buddha statue. Leave Le Jardin for Gare Debay, the second cable car station, to go to the top of Ba Na
10:30: Visit and play game at the Fantasy Park- Ba Na Hills Fantasy Park- the third largest indoor amusement park in the world (only some free games depending on Ba Na policy). 
11h30: Have lunch buffet at Restaurant
12:30: Conquer the Peak of Chua mountain at the height of 1,487m. Enjoy the panorama view of the Da Nang from the top of Ba Na Hills. And then visit Golden Bridge. 
14:30: Return to cable car station and transfer to Da Nang
15:00- 15:30: Send- off guest at HOTEL. O/N at hotel in Danang.
Inclusions
Exclusions
  Food and drinks
  Gratuities
  Other personal expenses
  Accommodations


Special Note:
Remember to bring a sweater/coat in case of cold weather
Children from 1,3m: Same as adult rate
Children between 
1m -<1,3m
 in height : 75% adult rate
Children < 1.0m in height: Free