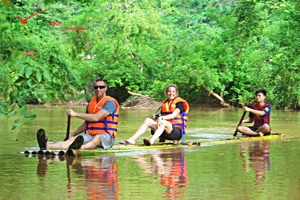 8 am: Depart to Mai Hich, Mai Chau. Enjoy the ride through the paddy fields of the Old Doai village and street-side village markets. Take a stop at Thung Khe Pass to observe the landscape of the valleys and hills.
11 am: Arrive in Mai Hich and be greeted by the village hosts in traditional dresses with cold drinks at Minh Tho Homestay.
Have a home-cooked local lunch with forest specialties and fresh ingredients.
Afternoon: Cycle or walk around the villages to enjoy the beauty of the surrounding nature and rural activities in action, including houses-on-stilt, fish ponds, low terrace paddy fields, and so on. Take part in some of the daily farming routines of local farmers. Check out a traditional weaving cooperative and have a chance to buy some hand-made souvenirs for your loved ones.
18:30 pm: Have dinner while enjoying the music and dances of Thai youth. Have a chance to learn and join the dances, and taste some local alcoholic specialty afterwards.
Have a comfortable overnight rest at Minh Tho Homestay (with privacy, coziness, and free wifi access)
Optional:
Campfire with roasted corn, sweet potatoes or chicken porridge.