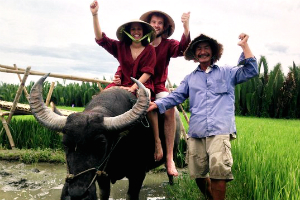 Our guide picks you up at your hotel by bicycle (In case of not being able to bike, van can be used to go as an option). We start biking throughout the rice paddle of a peaceful countryside, breathe fresh air and enjoy the wind.
Arrival, you are welcome by friendly local farmers, learn about their farming daily life and have a cup of green tea at the middle of the field like an original Vietnamese farmer.
Wearing farming clothes before getting into muddy rice field like: Vietnamese authentic and traditional farmer clothes, conical hat, boost, etc …
Hands on of the whole process of how rice reaches its finished product. Start the day by riding a water buffalo and then take part in ploughing, raking, sowing, planting, grinding and transplanting baby wet rice at the rice paddle field.
Have a local meal with the local farmer in their house before heading back to Hoi An.
Return to Hoi An town for a leisurely afternoon.