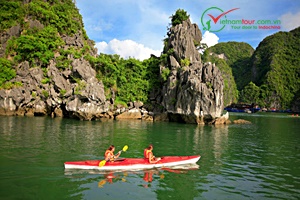 8:30am. be
ready at
the lobby, our car will pick you up and drive from Hanoi to one of the most magnificent scenic environments in the world,
Halong Bay
. Covering 577 square miles, this vast bay is filled with more than 3,000
limestone
"peaks" or karsts that jut from the deep blue water as far as the eye can see. We'll spend a day and a half, including an overnight with dinner and breakfast on board, exploring this overwhelming seascape from the decks of a
traditional Vietnamese boat
. Comfortable and intimate, your boat features hand-crafted wooden interiors including a dining room and
pleasant
air-conditioned cabins with private baths. Since we're overnight on the water, we'll be able to explore
Ha Long Bay
's most beautiful spots with time to
swim, kayak and even visit some of the largest rock
formations and caves
. This promises to be one of your most memorable travel experiences in Asia. Stay overnight on Boat.