Located nearly 100 kilometers from Hanoi and 7km from Ninh Binh city center, Trang An scenic population spreads over 2,000 hectares and is formed by the limestone mountain ranges, the mysterious caves, along with dozens of historical – cultural relics including temples, pagodas, creating a rare lyrical magical space.

Trang An Complex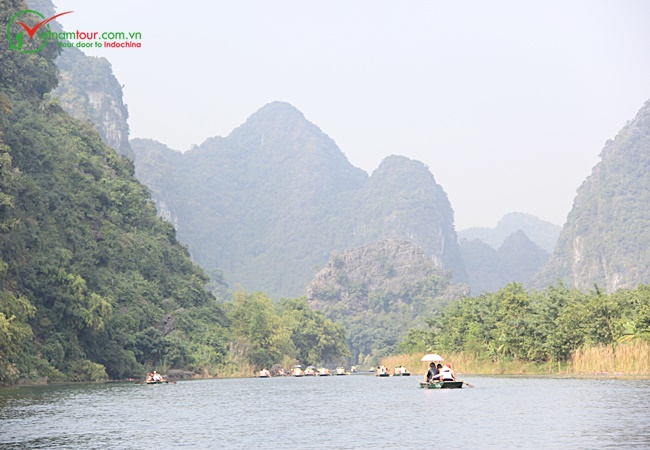 Trang An grottoes
This complex includes Trang An Ecological Tourism Site, tourist resort of Tam Coc – Bich Dong, Hoa Lu… The combination of these tourist areas are special use forests and valleys, winding and intertwined rivers. Only when seeing the panoramic view here by, visitors truly feel the comparison "Trang an is like a Ha Long Bay on land".

Trang An Ecotourism site is located on natural stronghold mountains of Hoa Lu ancient capital. Surrounded by mountains, hidden under each mountain are the mysterious caves which are interconnected by the water valleys stretching kilometers. Cave system is extremely diverse in shapes and types.

Along with Trang An tourist site, Tam Coc – Bich Dong is one of four key tourist areas and attractions of Ninh Binh Province. Tam Coc – Bich Dong, also known as "Nam Thien de nhi dong", is a key national tourist area of Ninh Binh. To fully explore Tam Coc, visitors will take approximately 3 hours traveling by boat along Ngo Dong River. Not only is Tam Coc (3 caves) a beautiful landscape, the scenery along river banks really enchants people.

Bich Dong "Nam thien de nhi dong" is dark submerged cave of approximately 350m long and is 2km from Tam Coc wharf. In front of the cave is winding Hoang Long river, and the ripe paddy field along the mountainside in the other side of the river. At the end of the Bich Dong tour, visitors can climb to visit Bich Dong Pagoda, an ancient temple on the rock with oriental style.

Thung Nham – Bird Park is an attractive tourist resort of Tam Coc – Bich Dong. This is a destination of Dam Khe Village, Ninh Hai Commune, about 2km from Bich Dong Pagoda. Bird Park is a charming small areas where "mountains are in the river, the river is in the mountains". "Where there is good land, the birds will perch", it is why there are thousands of thousands of chirping birds flying perching on the trees, the mountains.

Trang An - Ninh Binh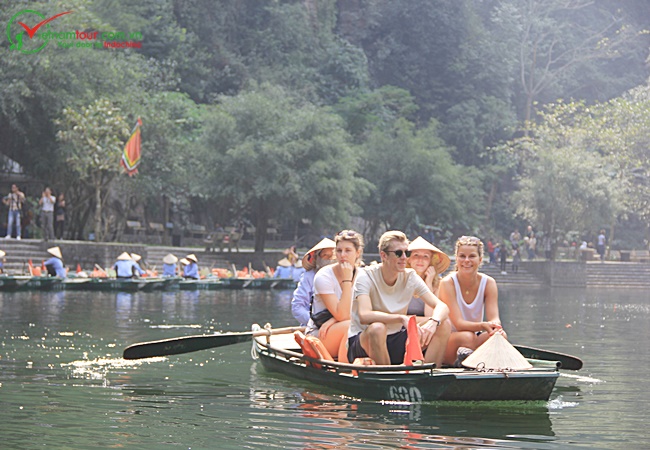 Boat trip in Trang An
During the journey exploring Trang An scenic area, travelers should not ignore Hoa Lu ancient capital and Bai Dinh Pagoda. Hoa Lu was the capital of ancient Vietnam under the Dinh and Tien Le dynasties and are recognized as national especially important monuments. Hoa Lu ancient capital consists of 47 monuments in which the most prominent sites are the Temple of the King Dinh Tien Hoang, King Dinh tombs, temple and tomb of King Le Dai Hanh, the memorial of King Ly Thai To…

Bai Dinh Pagoda is a monumental temple complex earning many records in Vietnam and Asia. It is located on an area of 540 hectares and is the largest temple complex in Southeast Asia. Bai Dinh Pagoda was started to be built in 2003, so far, the basic items has been completed, ready to welcome Buddhists and tourists from everywhere.

The best time to travel to Trang An is from January to March in lunar calendar. In the spring, it is not too cold neither too hot, especially, tourists can combine visiting the landscape and pilgrimaging in the temple, praying for good luck. However, this is also the tourist season in Ninh Binh, so it is incredibly crowded of tourists coming from all over the world.

Trang An Complex, Tam Coc – Bich Dong, Hoa Lu ancient capital is officially recognized as mixed natural and cultural heritage of the world by UNESCO.