Would you like to spend a few days on the Vietnamese beaches? The beaches of Phu Quoc Island are a must . In this guide we tell you what to see and what to do in Phu Quoc.
Would you like to spend a few days on the Vietnamese beaches? The beaches of Phu Quoc Island are a must. In this guide we tell you what to see and what to do in Phu Quoc.
In Phuket South, a few kilometers off the coast of Cambodia, is Phu Quoc . Located in the Gulf of Thailand, Phu Quoc is the largest island in Vietnam with a total area of 574 km2. Around 103,000 people inhabit the island. Do you want to know what to do in Phu Quoc?
There is much to see in Phu Quoc but, the main attraction of this island is, its surroundings: white sand beaches and crystal clear water and dense extensions of tropical forest. If you want to give a more urban touch to your passage through Phu Quoc you can visit its capital, Duong Dong, in the center of the west coast of the island.
The best beaches of Phu Quoc
If you are going to spend a few days on this amazing Vietnamese island and are wondering what to do in Phu Quoc, the first thing you have to consider is its beaches. Here are some of the best beaches in Phu Quoc. Take note!
If you are looking for a destination to enjoy the beach and tranquility, in Phu Quoc you will have it guaranteed. On some of its beaches, such as Long Beach, there are luxury resorts where you can take care of yourself and enjoy the surroundings. If you are looking for absolute calm beaches to getaway, Phu Quoc is also a great choice. But Phu Quoc is much more than its beaches: there are also temples and pagodas to enjoy a pleasant cultural route.
Dai beach
If you are in the north of Phu Quoc one of the most recommended beaches is Dai Beach. Dai Beach is located between the towns of Ganh Dauth and Vung Bau. The waters of Dai beach are calm and pleasant. Formerly it was a particularly quiet place with few buildings or tourists. It is currently a livelier place although it still hides some corners with its original charm. The sunrises and sunsets on the island are impressive, and it is worth observing them from the sand facing the sea.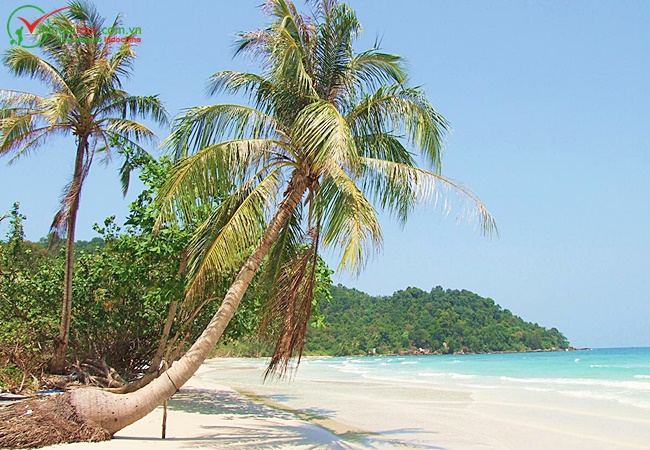 Dai beach
Vung bau
In the northwest of Phu Quoc, near Dai Beach, is Vung Bau. This beach is very lonely, remote, perfect for those travelers who really want to disconnect and enjoy a few hours in absolute silence. The coast of this beach extends along 4.5 kilometers. Its waters are calm, especially during the dry months.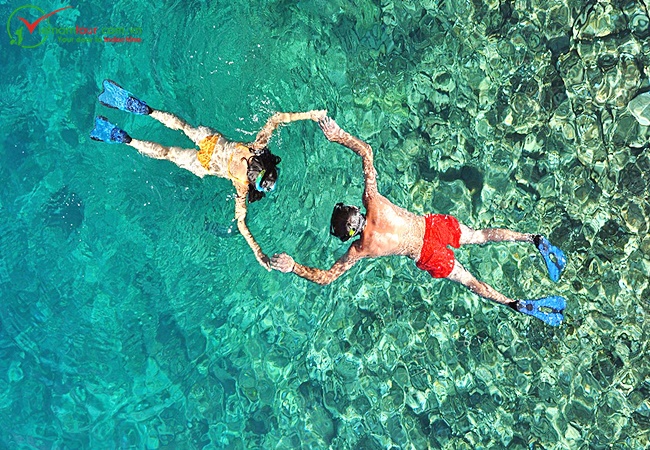 Vung bau
Keep in mind that the fact that it is a lonely beach means that there are not many restaurants or bars around, although you can go and enjoy the resorts in the area. Some of them have a private beach and a shop. It is a highly recommended destination to visit during a honeymoon. Also if you want to practice snorkeling, in the resorts they rent the necessary equipment to do it.
Ong Lang
In the north of the capital of Phu Quoc is the beach of Ong Lang. It is a slightly rocky area and is actually made up of small beaches. If you are in the Duong Dong area and are looking for a quieter beach than Long Beach, this may be your best alternative.
Ganh Dau
Ganh Dau is a quiet beach 500 meters long, located between two mountains. The natural environment of the beach is leafy, with palm trees and forests in which to get lost. If you enjoy marine fauna, at Ganh Dau beach you can also appreciate numerous marine species while snorkeling. Lying on the beach, panoramic views will allow you to see the coast of Cambodia.
Sao Beach
Sao beach is probably one of the most paradisiacal on the island: crystal clear water and white sand. An environment surrounded by palm trees and a particularly calm sea. If you feel like snorkeling or kayaking, the calm waters of Sao beach will allow you to do it easily. Water depth is very gradual and not suddenly, ideal if you travel with young children.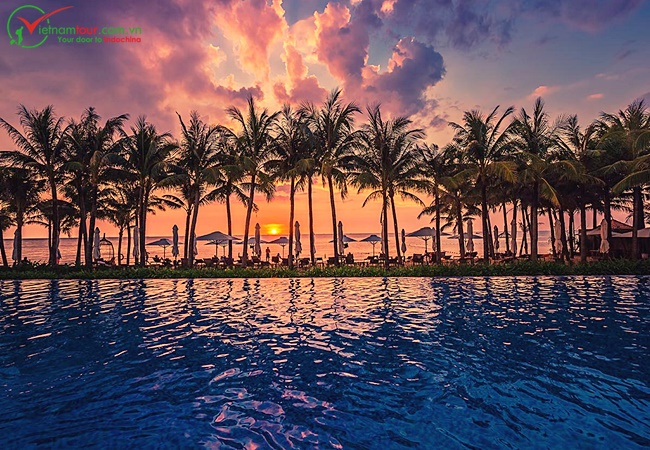 Sao Beach
In addition to the obvious attraction of the beaches, in Sao beach, there is also space for fun thanks to some sports complexes, a giant inflatable castle on the water, jet ski rental or the possibility of going out by boat to fish. If you are a sports lover, in Sao you will find everything you need and you can enjoy along its 7 kilometers of coastline.
Long beach
South of Duong Dong, the capital of Phu Quoc, you will find Long Beach, which is probably one of the most famous beaches on the island. It is only 10 minutes from the Phu Quoc airport and its coastline is 20 kilometers long.
Long Beach is fun and tranquility, it is to be able to rest on its white sand, bathe in its turquoise water, but also be able to enjoy many activities in the middle of nature. The resorts found in Long Beach offer multiple activities, from kayaking, snorkeling and paddle surfing, to jet ski routes, night parties or a varied cuisine. In Phu Quoc you can enjoy the best seafood in Vietnam, so your stay in Long Beach can be a great opportunity to taste the best local products. Also in Phu Quoc, fish sauce considered the best in the world ( nuoc mam ) is manufactured .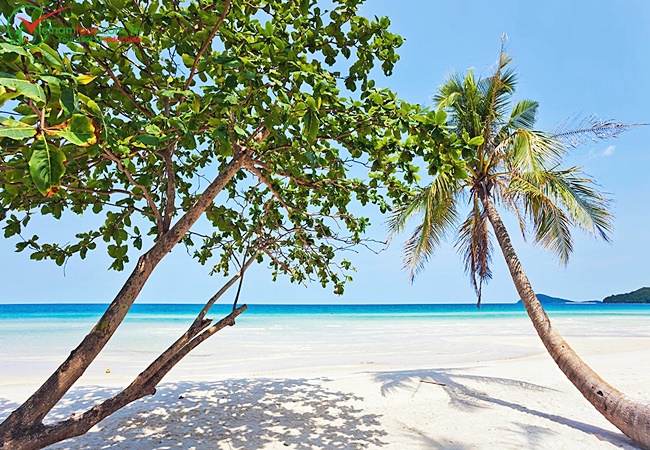 Long Beach

What to see in Phu Quoc
Temples in Duong Dong
Now that you know one of the main attractions of Phu Quoc (its beaches) you will continue wondering what else you can visit in Phu Quoc . Well, you should know that this great island is much more than its beaches: there are also temples and pagodas to enjoy a pleasant cultural route.
We begin this tour about what to see in Phu Quoc, touring the best temples of Phu Quoc, located in the city of Duong Dong:
Dinh Cau Rock (Cau Temple)
Dinh Cau Rock, also known as Cau Temple, is a temple that dates from 1937 and is located on Bach Dang Street in Duong Dong City. It is a small Buddhist temple, located on the seashore, next to the fishing port. It stands out for the color of its exterior, in bright red colors and for its decorations and sculptures of dragons. But what especially remember every traveler who visits this temple are the incredible views of the sea that can be seen from the top of the temple
The Cau temple was built in honor of Thien Hau, the goddess of the sea, which is of significant importance in the city. It is believed to give them protection and avoid catastrophes.
Sung Hung Pagoda
One of the oldest temples in Phu Quoc is located on Tran Hung Dao Street in Duong Dong. The exact date of its construction is unknown, but it is known that it is formed from two ancient pagodas dating from the 10th century. What is known with certainty is that the Sung Hung pagoda has undergone two reconstructions throughout its construction. history, in 1924 and 1960, which retained its original architecture.
At its entrance you will see several statues, such as that of the goddess of mercy or that of a bronze bell. The outside is surrounded by trees. Inside the pagoda there is a main altar with three Buddhas: Amitabha, Mahasthamaprapta bodhisattva and Avalokitesvara Bodhisattva.
It is a pagoda very frequented by monks and faithful Buddhists, so it is highly recommended to wear clothes that cover the shoulders and legs so as not to be advised. The Sung Hung Pagoda opens its doors every day from 7 in the morning to 6:00 p.m.

Cao Dai Temple
At 40 Nguyen Trai Street you can visit the Cao Dai temple. This temple follows the flow of caodaism, which sustains that there is only one god for all religions. It is an integrative religion founded in 1926 and practiced only in Vietnam or in countries with Vietnamese immigration.
In Duong Dong there are two Cao Dai temples, both on the same street. One of the most representative symbols of this religion is the image of the left eye of God. This image is represented multiple times in Cao Dai temples. You can visit the temple any day of the week from 7:00 a.m. to 6:00 p.m.

Things to do in Phu Quoc

The abundant flora and fauna of Phu Quoc allows you to perform various activities in the middle of nature. It is an ideal destination to know its rainforest and know the local species. If you are passionate about being outdoors, the natural environment of Phu Quoc Island will fascinate you. If you are looking to discover local products and enter the life of the natives you can also do it in Duong Dong, the capital of the island.

Explore the Phu Quoc National Park
If you want to spend a day surrounded by nature, we recommend visiting the Phu Quoc National Park. This natural park occupies more than half of Phu Quoc, being located in the northernmost part of the island. Its total area is 314.2 km² (the island of Phu Quoc has an area of 514 square kilometers).
You can take a motorcycle route through the park or visit it on foot. Not all routes are suitable for walking, although there are routes especially suitable for doing so. During your visit to the Phu Quoc National Park you will appreciate the great biodiversity of the place. It is estimated that there are 1,164 plant species and 208 animal species, some of them in danger of extinction.
On your route through the Phu Quoc National Park it is advisable to go well equipped with water and some food. Some of the areas are especially pleasant because the vegetation helps you to enjoy the shade and make your journey quietly.
Take a trip to Suoi Tranh Waterfall
A 10-minute drive from Duong Dong, the capital of Phu Quoc, is the Suoi Tranh waterfall. It is a 4-meter waterfall, in the Ham Ninh mountains. If you feel like spending the day at the place, you should know that it is an ideal place to picnic - you may find some places eating around the waterfall. You can also take a dip in the waterfall, but you should keep in mind that it is usually a busy place. Try to go early to enjoy the water without overcrowding.
Stroll through Duong Dong Market
On Du Phu Dong Tran Phu Street you can visit the Duong Dong Market any day of the week. It is the largest market on the island and the busiest. You can buy all kinds of products, especially products from fishing - they are the most renowned foods on the island.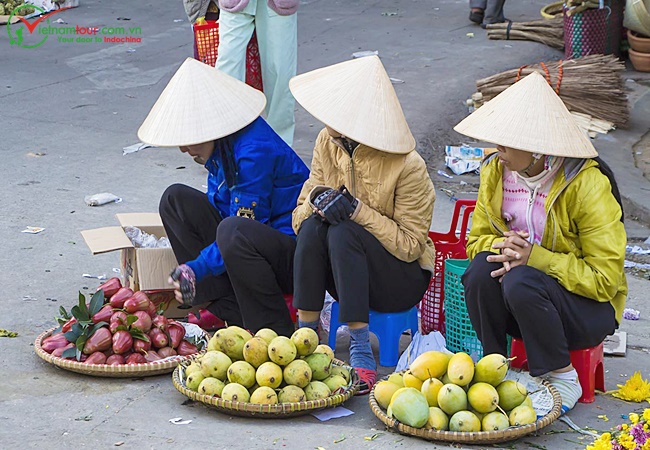 Duong Dong market
You will have the opportunity to see how the boats that bring fresh fish and seafood arrive to sell in the market. Also there, the famous fish sauce of Phu Quoc is marketed, which is considered one of the best fish sauces in the world. Another product to highlight is pepper, of which they are exporters.
In addition to all this you can not miss textile stores and street food stalls. There you can taste some of the typical Vietnamese dishes at an affordable price. The market opens its doors at 7:00 a.m. and closes at 9:00 p.m. If you want to see the locals buying you should get up early, since they go shopping early in the morning.

And if you are already clear about your next destination, check out all the travel proposals we have to travel to Vietnam spending a few days on one of its magnificent beaches: