Located in the West of the Gulf of Tonkin in Vietnam, Halong Bay is one of the most popular tourist attractions of Vietnam, which has twice recognized as one of the world heritage sites by UNESCO. This beautiful bay is known for its scenic karst topography with thick vegetation, bio-diversity and thousands of wonderful islands – the wonders of nature.

About Halong Bay
Halong Bay is a unique natural heritage site since this place contains the important vestiges in the process of forming and developing the earth's history. The thousands of islands with unusual shapes and many caves of this bay clusters to make a lively and mysterious world. Moreover, the biodiversity of Halong Bay is concentrated highly with typical ecosystem and thousands of species of plants and animals, which is extremely rich and diverse.

Best time to travel Halong Bay
Located in Northern Vietnam, the Halong bay weather can divided markedly into four seasons: spring, summer, autumn and winter. Tourists can choose any time of the year to take a Halong trip. However, many tourists choose the period time from November to March to visit this bay because the Halong weather at that time is quite cool and pleasant.

Tourist sites in Halong Bay
Thien Cung cave: this cave is situated in the north of Dau Go island. It is one of the most beautiful cave in Halong bay with 10,000m² in width and having very complex natural structure. Especially, entering into the cave, tourists can behold a lot of stalactites, stalagmites with strange shapes placed in everywhere.
Me Cung Cave: Located at a height of 25m on Lom Bo island, about 2km southwest of Ti Top Island, Me Cung cave has a complex structure that will overwhelm anyone visiting to it.
Tuan Chau Island: Being the most beautiful island among 1,969 islands in Ha Long Bay, Tuan Chau island is also only inhabited island in Halong Bay.

Things to do in Halong Bay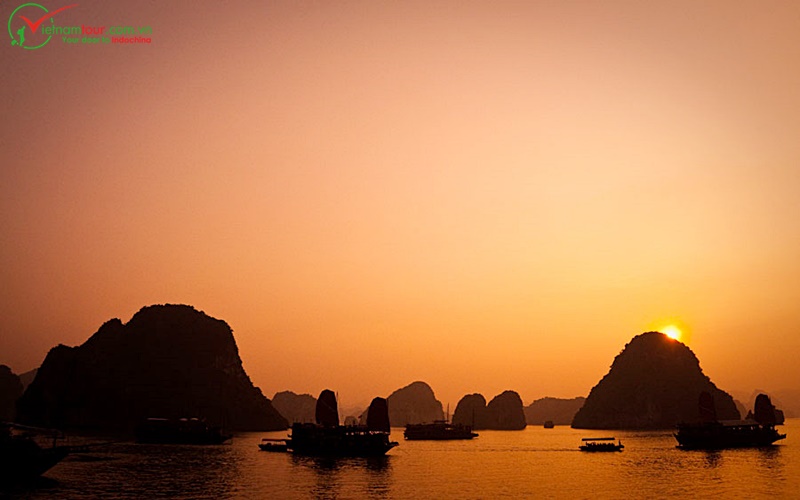 Sunset in Halong Bay
Taking an overnight Halong cruise: It will be really interesting if you can relax in the clean and comfortable bed while beholding the majestic scenery of mountains and the jellyfish swimming right under the window at night. Having a overnight Halong cruise will give tourists memorable experiences when coming to this bay.
Taking Halong kayaking: Halong Bay has been voted by National Geographic Adventures as one of the top 25 Kayak Tours in the world. If you do not experience the cruise on Halong Bay by Kayak, it is regrettable. When sitting on the boat Kayak little paddle rowing on the blue water, while admiring the natural sights, it is simple but equally interesting.
Exploring Halong's beautiful cave: Each cave of Halong Bay has an interesting name, suggesting curious to discover such as Thien Cung Cave, Sung Sot Cave, Luon Cave, Dau Go Cave, Hanh Cave.
Visiting the fishing villages on Halong Bay: The coastal fishing village in Ha Long is a peaceful destination, an interesting stop for tourists. Vung Vieng fishing village, Cua Van fishing village, Ba Hang fishing village are famous sites for tourists to refer.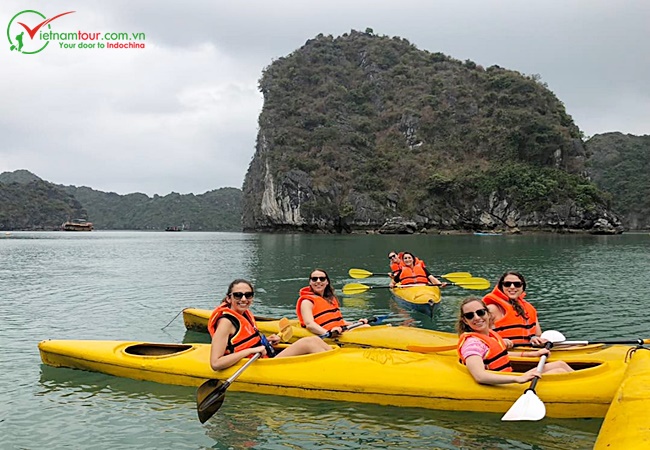 Halong kayaking
How to get there
There are many options for tourists to get Halong from Hanoi city: shuttle bus, seaplane, car, motorbike or train. Seaplane: This is the new option for those who want to experience a luxury and modern mean of transport for their Halong trip.

Thanks to its alluring scenery and spectacular natural landscapes, this compelling natural heritage site attracts both domestic and foreign tourists.
Halong Bay tours:
Halong Bay cruises
Hanoi - Halong - Sapa 6 days 5 nights
Halong one day cruise