The 5 destinations often come up in travelers' mind when they first dream of their future trip to Vietnam: Hanoi, Halong, Hue, Hoi An, and Ho Chi Minh City. But Vietnam is not just all about cities and beaches, it also possesses some spectacular mountain ranges. In fact, the vast mountainous area in North Vietnam takes up a third of the country's total land area. Here you can explore the authentic culture of various ethnic groups while staying away from the crowds or go on exciting adventures while gazing at superb rugged mountains. Choices are plenty, but here's our list of the top 5 mountain destinations in case you want to plan a trip to North Vietnam.
1. Sapa
Obviously the most popular destination in the northwest of Vietnam, Sapa was established by the French as a place of retreat in the early 20th century. Since then, it has been an ideal choice for a getaway from Hanoi as well as a leisure base for exploring the surrounding attractions. From Sapa, you can bike or trek through some of the best rice terraces in the world then stop by villages to discover the distinctive lives of H'Mong or Dao People.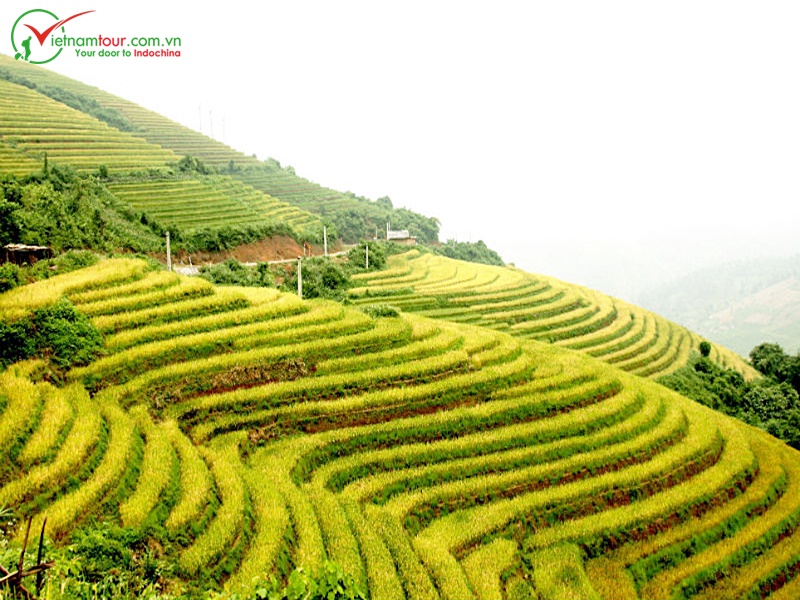 Sapa attracts visitors by its pristine landscape
For a harder expedition, conquer the rooftop of Indochina, Mount Fansipan (3.143 meters above sea level) in two days. Sapa is also one of the very few places in Vietnam to experience occasional snowfalls. Although the town is packed with lots of hotels and resorts, we recommend the Topas Ecolodge. Although it takes you 45 minutes to get from the lodge to Sapa, this is widely considered as the best eco-friendly property in Vietnam.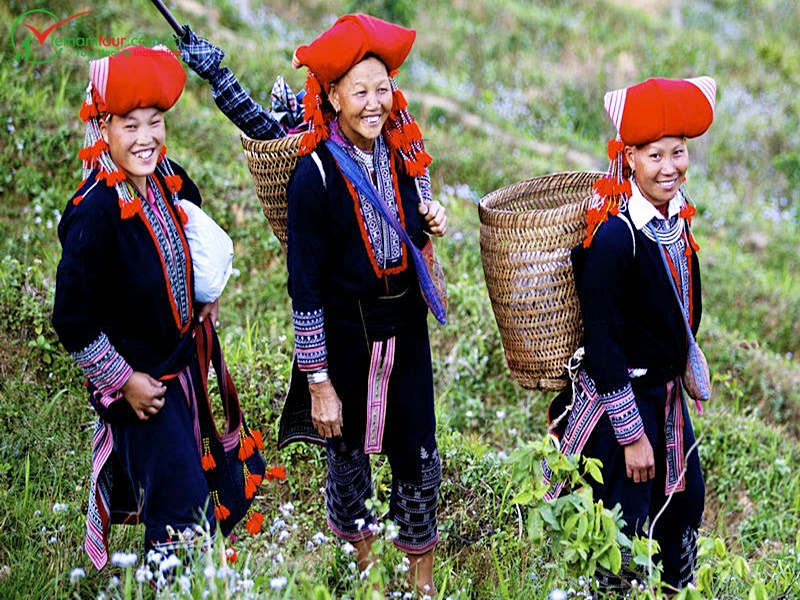 This is home of many ethnic tribes
How to get there?
Located 370 km from Hanoi, Sapa is easily accessed by bus or train. For more adventure, you can get there by motorbike too, but make sure you are a good driver because all the roads leading to the northern mountains of Vietnam are quite dangerous with many twists and turns.

Best things to do and places to visit:
- Trek ethnic tribes in Ta Van to visit the old bridges
- Explore the rice terrace fields which are best in summer and autumn.
- Cloud hunting in Y ty.
- Go shopping at Bac Ha Market.
- Enjoy a cup of coffee near the Notre Dame Cathedral or Sapa Stone Church - Trek Fansipan.
- Visit the beautiful Silver waterfall.

2. Ha Giang
The northernmost province of Vietnam is also one of the poorest and most secluded in Vietnam. With that being said, Ha Giang offers some of the best mountainous views in Southeast Asia, especially when you weave your way through the imposing Ma Pi Leng Pass, the King of Passes in Vietnam. At 1.500m, the twisty road here lies right on the steep limestone mountain, with the Nho Que River looming far beneath. Truly breathtaking!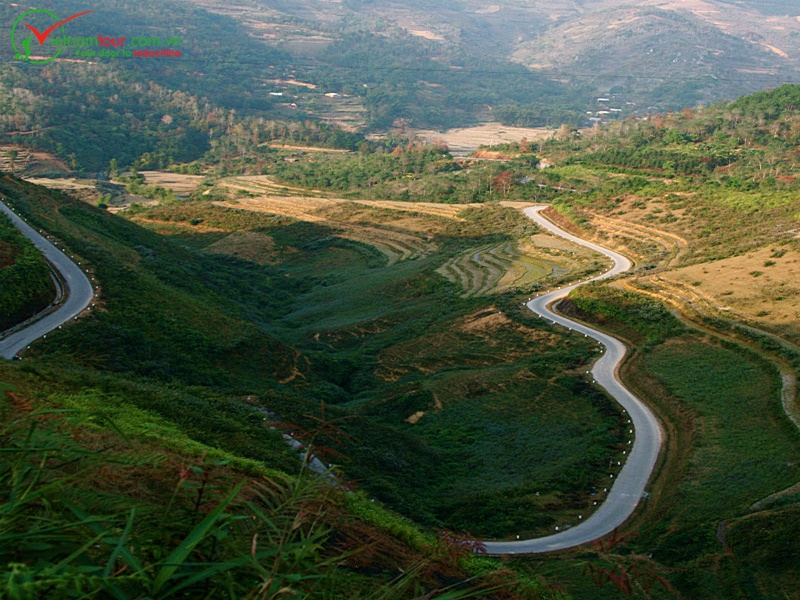 Ma Pi Leng Pass - one of the most beautiful roads in Vietnam

After this scenic drive, don't forget to take part in a Sunday session of Dong Van Market, one of the best ways to get connected and learn more about the daily lives of the ethnic minorities in the far north. The magnificent plateau landscapes of Ha Giang also change their color from months to months, with different kinds of flowers blooming. But we recommend the best time to visit Ha Giang is during the Lunar New Year when several unique festivals and rituals will take place.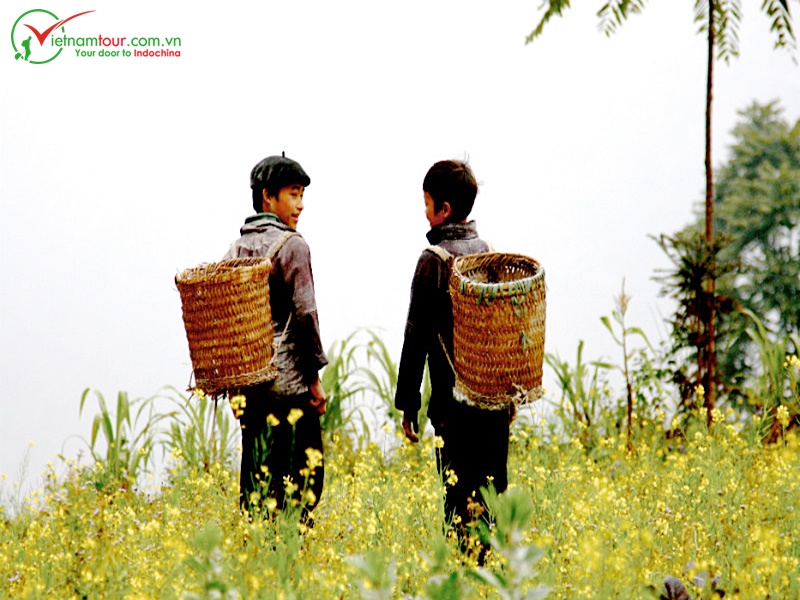 The local children
How to get there?
There are several buses run from Hanoi to Ha Giang, which take about 6 - 8 hours or you can take a train from Hanoi to Lao Cai town (for visitors heading to Sapa or Bac Ha), then catch a 6 hour - local bus from Lao Cai to Ha Giang

Best things to do and places to visit:

- Take a tour of hills, valleys, and ethnic minorities villages at Dong Van and Meo Vac.
- Visit the ethereal karst formations that are nearly 400 million years old at Dong Van Karst Global Geopark.
- Conquer Ma Pi Leng Pass - one of the most beautiful roads in Vietnam.
- Be stunned by rice terraces in Hoang Su Phi
- Visit Vuong Chi Sinh - the Hmong King's Place in Sa Phin.
- Swim at Noong Lake which has trees growing in the water.
- Discover the social life of ethnic people at local markets. The market just opens at a certain time but don't worry if you miss one. There are a few of them for your option:
Markets open on Sunday: Meo Vac - the largest market in Ha Giang province, Dong Van market, Ha Giang town market, Quan Ba market, Coc Pai market, Lung Phin market and Hoang Su Phi market.
Markets open on Saturday: Ma Le (Dong Van) market and Quyet Tien (Quan Ba) market.
Markets open every 6th day: Sa Phin market, Pho Cao market, and Pho Bang market.
3. Mai Chau
The sleepy town of Mai Chau lies within a valley. Although it is not as stunning as in Ha Giang, it provides some idyllic rural view that will ease your senses.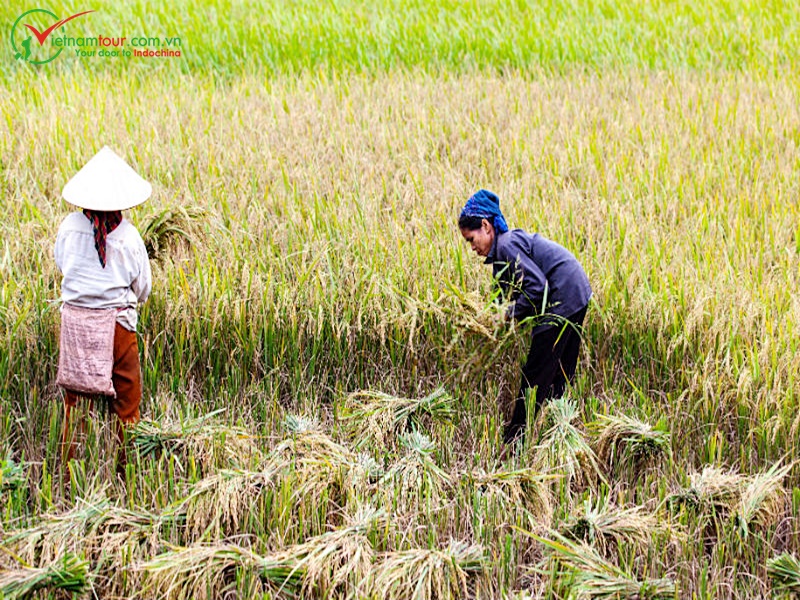 Mai Chau provides idyllic rural views that will ease your senses
Whites and Black Thai people are the biggest ethnic groups in this region. They build and live in wooden stilt houses. You can rent a motorbike or a bike to ride through the green rice fields, rural villages, local markets and immerse yourself in a peaceful life. When the night falls, you will have the chance to try a local dinner placed on a banana leaf. Then, take part in the traditional dance with your fellow travelers and the locals before taking some sleep in a stilt house. The best time to visit Mai Chau is from October to April when the weather is neither too hot nor too cold.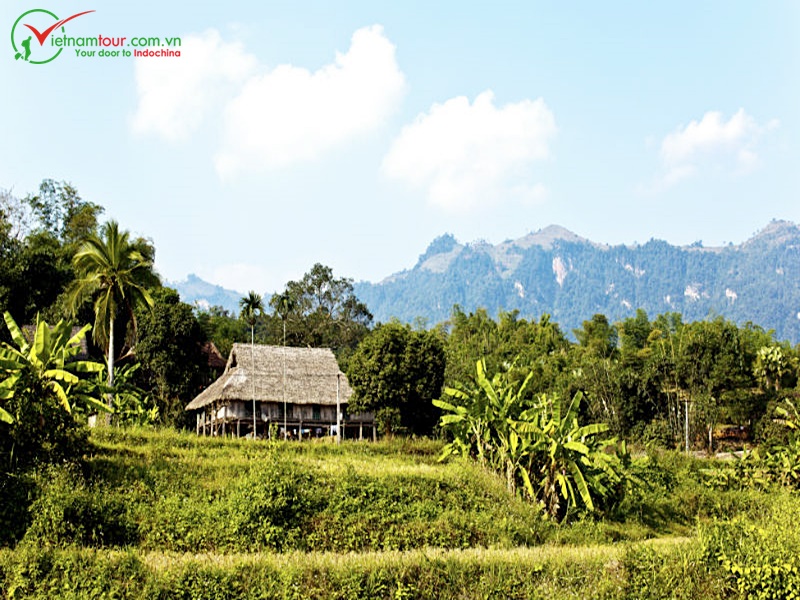 50 km from Mai Chau, Pu Luong Nature Reserve would live up to most people's image of Vietnamese rural life.


How to get there?
There is no train connection in Mai Chau, the best ways to access this place is by bus or motorbike. Travel distance is about 140 km west of Hanoi.

Best things to do and places to visit:
- Tour the ethnic villages to see farmers at their daily work.
- Cycle around the neighborhood through green fields.
- Visit Chieu cave.
Stay a night in a stilt house and have dinner with the locals.
- Listen to traditional music.
- Trek Pu Luong Nature Reserve which is 50km from Mai Chau. Don't forget to visit Hieu waterfall.
- Go sightseeing around the Hoa Binh Lake.
- If you have enough time, make a day trip to the tea plantations at Moc Chau which are located approximately 90 km from Mai Chau.

Want to explore Mai Chau? Try this tour:
Vietnam Culture Highlight- You will visit great and bustling cities, Hanoi, Ho Chi Minh, get yourself immersed in the tranquil and stunning countryside of Mai Hich and Ninh Binh, amazed by historic charms of Da Nang-Hoi An, and of course, get on board to explore the Mekong Delta and wondrous Halong Bay.
4. Ba Be
The massive Ba Be National Park is 240 kilometers to the northeast of Hanoi and covers as much as 23,000 hectares of valleys, caves, rivers, waterfalls, three enormous lakes (Ba Be means "three basins") and of course evergreen tropical forests. To some Vietnamese, Ba Be is regarded as the "green lungs" of Northeast Vietnam. And if you're looking for a mountain destination which provides many different kinds of outdoor activities, you're coming to the right place. Here you will be offered three different treks with different levels of difficulty.


Ba Be is regarded as the "green lungs" of Northeast Vietnam

Your efforts will be well rewarded by the pristine natural settings and the friendliness of the Tay people who are living here. With the extensive network of waterways, Ba Be is also a great destination for kayaking enthusiasts. Similar to Mai Chau, the main overnight stay of choice here is local homestays.

How to get there?
240 km from Hanoi, Ba Be National Park located in Bac Can Province. It takes only 5 hours traveling by bus.

Best things to do and places to visit:
- Take a boat trip on Ba Be Lake. You can do kayaking and swimming here.
- Discover the Ba Be National Park to see the diversity of wildlife.
- Hike to minority villages such as Vang village or Pac Ngoi village.
- Stay a night at a stilt house.
- Visit Puong Cave and Dau Dang waterfall.
- Rent a bike and take a biking tour.

Tour featuring Ba be:
North East Adventure - A complete Northern Vietnam tour, a real adventure to one of the most beautiful mountainous areas of Vietnam, where you will discover your own hidden power that shall surely bring to you a definitely unforgettable trip of your life time!
5. Cao Bang
The final stop on our list may also be the least known to foreigner travelers. To introduce, Cao Bang has the most astonishing waterfalls in Vietnam, Ban Gioc Waterfall. This amazing site straddles between Vietnam-China borders and has a terrific 30-meter vertical drop, spanning over 200 meters. This is also the world's fourth largest waterfall that lies along the national border.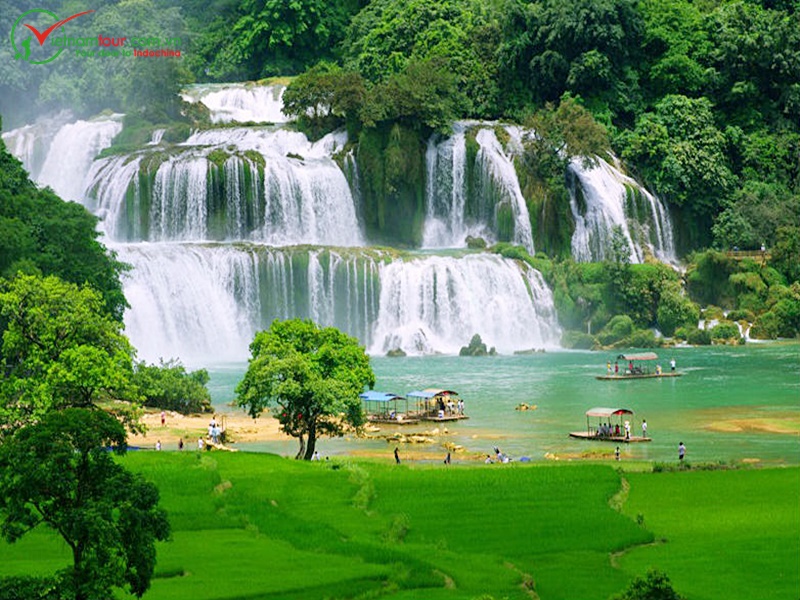 Ban Gioc Waterfall

This is truly one of the most mesmerizing sites you can witness in Vietnam, a fantastic opportunity for landscape photographers. Besides the poetic beauty of Ban Gioc, Cao Bang can entice you by some half day treks which run across several villages of the ethnic groups. The difference between these treks compared to many others in Vietnam that it is very unlikely that you will not encounter a tourist, not even Vietnamese. For once, the mighty mountainous Northern Vietnam is only yours to unveil.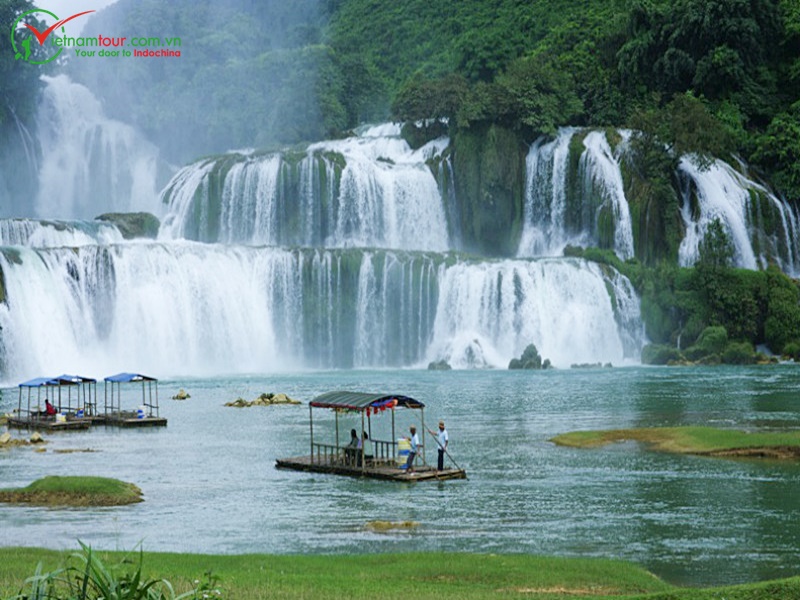 Thang Hen Lake consists of 36 small natural lakes on the hill at a height of 1,000m above sea level.

How to get there?
Cao Bang is 370 km from Hanoi. Buses go from the city to Cao Bang town take about 6-8 hours. You can also rent a motorbike to drive there.

Best things to do and places to visit:
- Visit Ban Gioc waterfall. It is renowned as one of the top amazing waterfalls in Vietnam.
- Discover Nguom Ngao - one of the most interesting cave systems in Vietnam.
- Take a boat on Thang Hen Lake which consists of 36 small natural lakes on the hill at a height of 1,000m above sea level. This lake is 20 km from the town.
Cao Bang Featured Tour
Untouched Waterfall Ban Gioc - Ba Be lake - Designed for those who love adventure, this journey will take you to Babe, and the famous Ban Gioc waterfall where you will do some really good hike and trek in the most scenic destinations of Northern Vietnam.