Da Lat is the capital of Lam Dong province, Vietnam ( Dalat or Da Lat ) and is also the City of Flowers.
Its beauty "postcard" is located in a green and lush valley thanks to these beautiful French villas, its fresh air, its flower gardens, these beautiful waterfalls and these beautiful lakes.
The specificities of Da Lat are its pine forests (forming the name: "City of Thousands of Pines") with its winding roads, marigold trees and cherry blossoms in winter.
Its temperate climate of the city is in contrast with the tropical climate of Vietnam otherwise. Fog covering the valleys almost all year leads to its name "city of eternal spring", The spring is eternal and "unique season" in Da Lat .
To visit Da Lat is to have the impression of visiting "The Little Paris" because of its villas, French architecture and its replica of the Eiffel Tower. Many Vietnamese come here to spend the weekend especially the newlyweds.
It is by discovering the city through tea gardens, coffee plantations and rubber, that one feels almost transported to Europe. Indeed, in the past when Da Lat was still under France, French officials wanted to set up the name of this city as "Le Petit Paris" (A Little Paris), because the resort town was ideal, but the place was far from their native land. Thus, Dalat was the capital of the Federation of Indochina during the Second World War.
Vietnamese have also called Da Lat under many charming names such as the City of Love, The City of Poetry, The Green City.
The sites to see during your stay in Da Lat.
1. The Summer Palace of Bao Dai - A must-see site.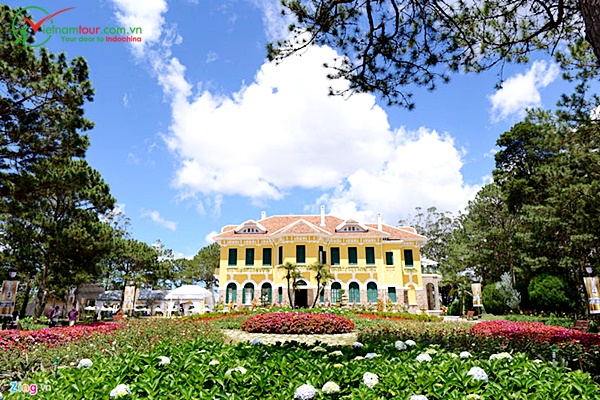 Traveling to Da Lat is first discovering the Bao Dai Palace - the last emperor of the Nguyen Dynasty whose palace was built from 1933 to 1938, is located on a hill of pines and at an altitude of 1539m above the sea level. The palace is a beautiful architecture that has seen the history of Vietnam.
This palace also called Dinh 3 and is part of a group of 3 buildings in Da Lat. This one is the most famous.
The rooms that are open to the public are the throne, the office and the emperor's room, dining room and the Empress's quarters. Many portraits and sculptures of the royal family are on display as well. Photos are not allowed inside the building.

2. Ms. Tran's Palace The Xuan in Da Lat.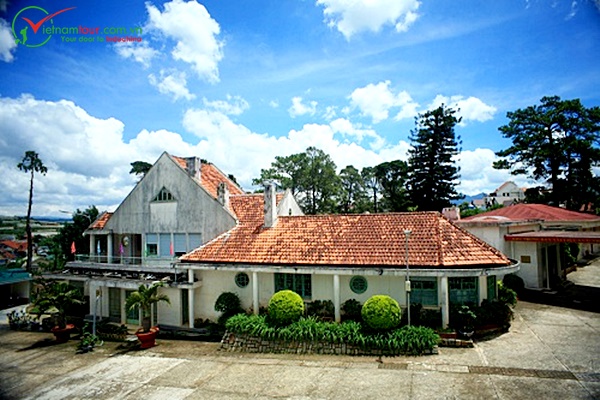 A tour in Da Lat will allow you to discover not only beautiful landscapes, but also a part of the history of Vietnam including Ms. Tran's Le Xuan Palace - the wife of Vice President Ngo Dinh Nhu, who was the summer residence of the family of Ngo Dinh Diem, president of the former regime of the South.

Built in 1958 on an area of 13000m 2 , designed by a Japanese architect, the palace features a Japanese-style garden with many beautiful flowers and a part of the palace provides access to visits.

Located on a pine hill at No 2 Yet Kieu Street, the palace has become the No. 4 National Archives Center under the Vietnamese State Records and Archives Department, preserving 34,555 wooden plates from the Dynasty of China. Nguyen. Among them, official records and historical works compiled during the Nguyen reign, as well as classical books and engraved plates from the Temple of Literature , in Hanoi . They are very important documents, considered as a national treasure, with 152 titles of books distributed in 9 domains such as: history, geography, military affairs, legislation, prose and poetry, religion - ideology - philosophy, language - literature, socio-political, culture - education.

3. Da Lat Station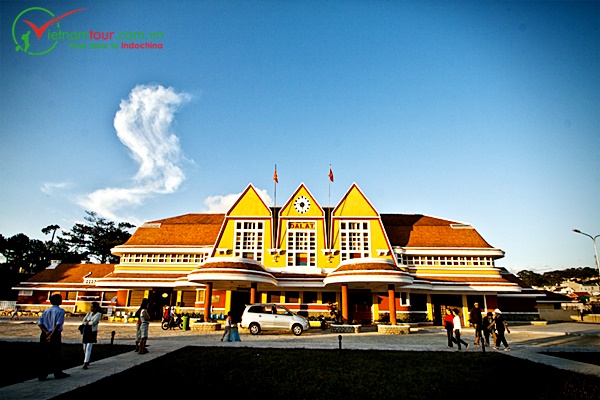 Why not go to Da Lat by train? The Da Lat Railway Station was built in 1938 and is the oldest station in Vietnam . It was designed in the Art Deco style, by French architects, but also incorporates features of the communal houses of ethnic highlands in the center of the country.
Abandoned during the war years, the cogwheel train of the time was operated as a tourist attraction to make the route of a section of 7km leading to the village Trai Mat.
This is not essential for Da Lat but it's nice to see and above all, it's from here that you can reach the extravagant Linh Phuoc pagoda since there are 5 kilometers of lines that have been renovated. The train ticket is 124,000 vnd. On the other hand, as much to say that the trip by train is rather disappointing since during the whole trip, you will see only greenhouses ...
The station was inspired by the station Deauville but it is not the copy as seen everywhere. Attention, the place is poorly maintained ...

4. Hang Nga- Crazy House guest house in Da Lat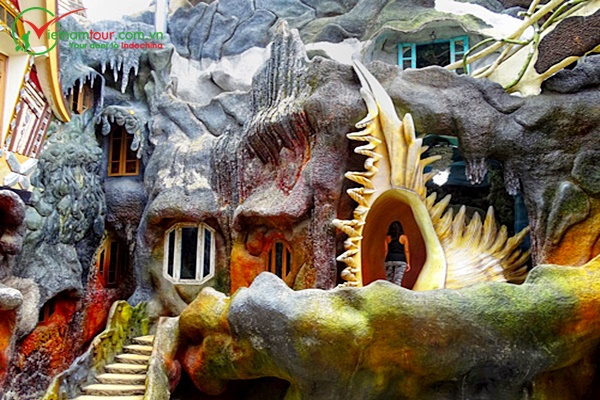 In Da Lat, you will have the opportunity to visit Hang Nga Guest House - Named "Crazy House" by locals. Located at No. 3 Huynh Thuc Khang Street, in the city of Da Lat, covering an area of 1600m2, it is a work of art that really exceeds the limit of people's imagination. The building has non-rectilinear shapes and is designed by an impressionist architect Dang Viet Nga.
Hang Nga House is considered a "museum" of dreams ... Everyone has their own interpretation of the house, as well as their own experience.

5. The Da Lat flower park.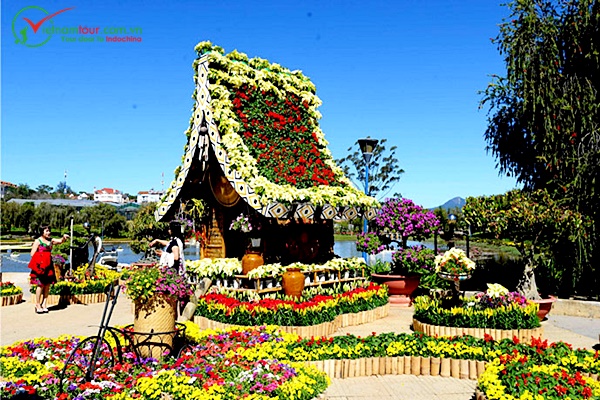 The city of Da Lat has been known as a kingdom of flowers. Its floral park contains hundreds of flowers and is located at Ba Huyen Thanh Quan Street, facing Xuan Huong Lake. The floral park was founded in 1966. In 1985, it was laid out and multiplied several species of flowers.
It has an area of 15 hectares, brings together more than 300 kinds of flowers, among which many flower all year round: rose, chrysanthemum, gladiolus, orchid, mimosa ... The entrance gate of the park is arched and decorated hundreds of flower pots.

6. The Linh Phuoc Pagoda in Da Lat.
Linh Phuoc is one of the most famous pagodas in Vietnam with a 37 meter bell tower - the largest in the country. Even if you are not followers of pagodas, this one, you can not miss. Pagodas and statues are covered with sherds of bottles (about 12,000 bottles in all) and pieces of pottery. We find a dragon 49m long.
In front of the garden, there is a tower of 37 meters high of seven floors. The first floor houses a bell 2.3 meters in diameter and weighing 8.5 tons. The bell can rotate and has four faces representing the four seasons. There is also a Buddha statue covered with 650,000 flowers ... We are in excess. I have never seen a pagoda in this style. So much extravagance in one place.
Address: Mat rai street (the easiest way is to take the train from the old train station Da Lat which will take you a few steps from the pagoda).

7. The Elephant Waterfall (Thac Voi) in Da Lat.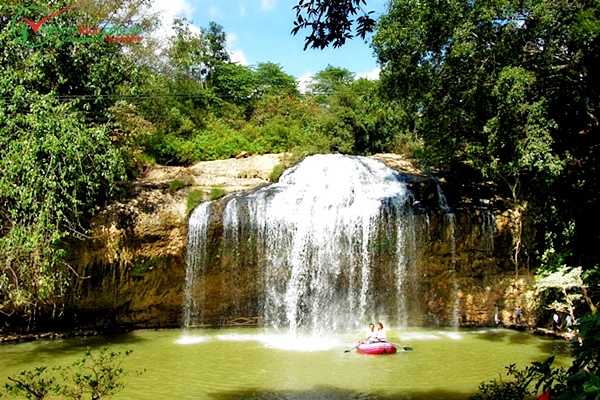 Thac Voi is a fabulous waterfall without any human intervention. This 30 meter high waterfall is the pride of Da Lat, but also of the entire central plateau of Vietnam !
The water flowing in this cascade is strong and sounds like a roaring tiger, but do not be afraid, because it's unique beauty that will captivate your heart! For those wishing to get away from the panoramic view, follow the path and descend at the foot of the waterfall, you will discover in all its splendor!

8. Mount Lang Biang in Da Lat.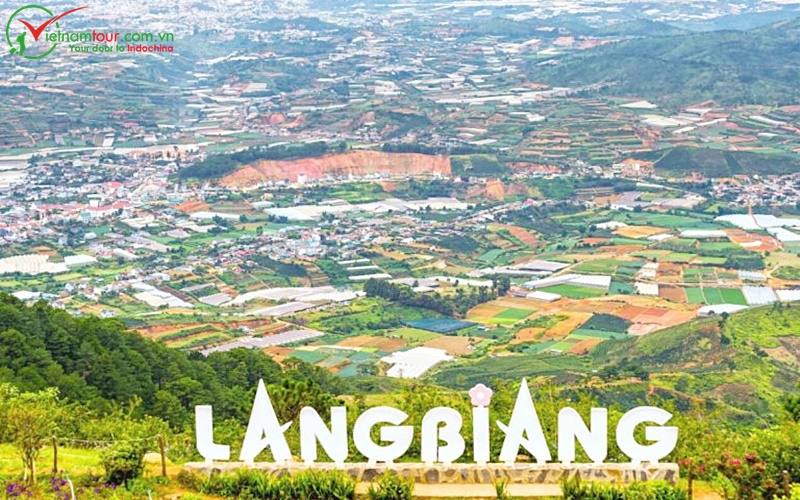 Located 12km from Da Lat , this Mount (2163m) is composed of 2 peaks. It can be reached by jeep (fare: 60,000 vnd per person or 240,000 vnd for the car) or on foot for the bravest (3 to 4 hours). The jeep does not reach the top and you will have to walk a few more meters to reach the summit, much more interesting and spectacular.
The legend says that the name Lang Biang is derived from the name of a couple who were deeply in love with each other - the boy named K'lang and the girl named Ho Biang. They fell in love with each other after K'lang was saved Biang's life. However, they were not allowed to get married because of the long-standing rivalry between their tribes. Unable to marry, they committed suicide. By remorse, Ho Biang's father decided to unify the two tribes. The mountain range was renamed Lang Biang as a tribute to this couple.
9. Belette's Coffee Farm in Da Lat.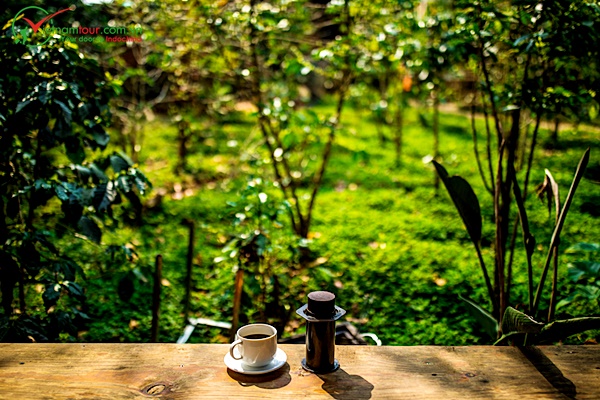 Everyone has tried Arabica coffee at least once, but what about weasel coffee? You should definitely try, as this will bring you a revealing experience!
Unlike the bitter taste of normal coffee, weasel coffee gives you a touch of sour taste. It is a kind of coffee that includes partially digested coffee beans, eaten and defecated by weasels. Fermentation occurs when the beans pass into the weasel's intestines and, after being defecated with other feces, are collected.
Do not worry, because it emits a typical and comfortable fragrance that will immediately attract your attention! Visiting a weasel coffee farm can be very interesting, because if you're lucky enough, you'll see from A to Z how the coffee beans are born and it's really a special process, as you can imagine.
If coffee really interests you, maybe you should take a break between outdoor activities and visit other coffee plantations or just relax in a coffee shop.

10. The Datanla Waterfall.
Datanla may not be Da Lat's biggest waterfall, but it's certainly one of the most beautiful! This magnificent waterfall is 20 meters high. Nearby you will find restaurants, resorts and entertaining games. If watching the waterfall on the rocks is not enough, try adventure activities such as canyoning, cliff jumping, kayaking and cascading.
Recall that the Datanla waterfall is the only place allowed to organize canyoning tours. In addition, for security reasons, you must book a tour with well-known companies.

11. Lake Tuyen Lam in Da Lat.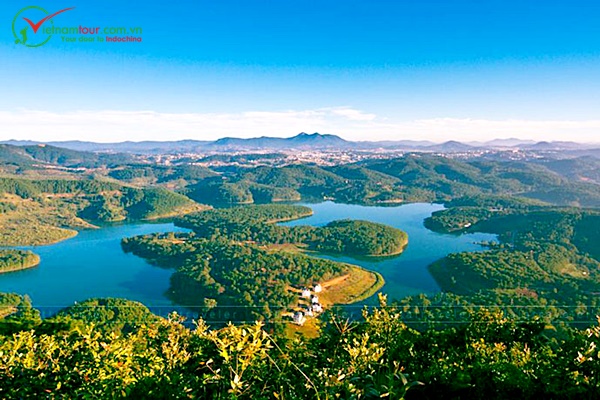 Tuyen Lam Lake is located directly under Truc Lam Zen Monastery, 6 km south of Dalat city center. This destination enjoys a cool climate, a quiet space, diverse and charming natural landscapes (forests, mountains, lakes, streams, waterfalls ...) and many tourist attractions.
The Tuyen Lam Lake is a resort to large with many unique types of tourism such as sightseeing, camping, health care, riding, climbing, fishing, revolutionary base visits, festivals, beliefs, entertainment , sports, ... especially ecotourism.
This lake is known as "the best paradise lake" because of its wild beauty and charm for travelers. It is also one of Vietnam's 21 national tourist resorts with many small oases and pine forests.

12. Truc Lam pagoda in Da Lat.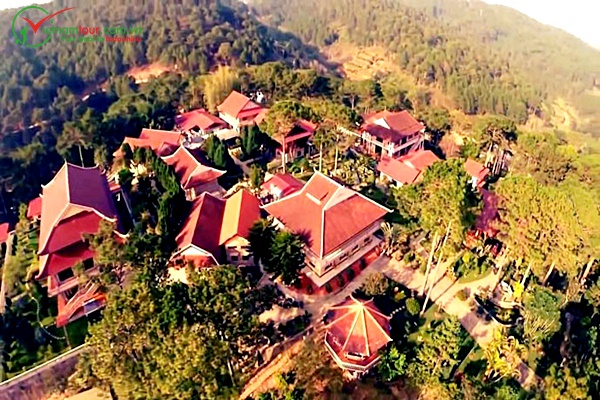 The Truc Lam pagoda is also worth visiting. Not only the pagoda itself is beautiful, but the trip is unique. To get there, you will have to take a cable car that leaves from Robin Hill. This place is easily accessible by taxi from the city center. The trip takes about ten to fifteen minutes and costs about $ 3.
Now it's time to take the gondola and travel 2.6 km from Robin Hill to Phoenix Mountain, where Truc Lam is located. The journey takes twenty minutes and offers breathtaking views of the surrounding hills, forests and valleys. Do not forget your camera !
Once in Phoenix Mountain, take an hour or two to explore Truc Lam. The largest Zen monastery in Vietnam, it houses several temples and pagodas, as well as vast grounds where hundreds of monks live in simple neighborhoods.

13. The Cau Dat - The green tea farm in Da Lat
If you like coffee and tea, or if you're just curious about how and where this basic ingredient is produced for the two most-consumed beverages in the world, take the opportunity to visit one of Da Lat tea and coffee . In addition to seeing how the plants are grown and harvested, you can also enjoy tea and coffee fresh from the farm.
You can go to several places or book an excursion. As with all visits, do your research and read the comments to make sure you join a good one and not find yourself in a huge and noisy group.

Have a nice trip !