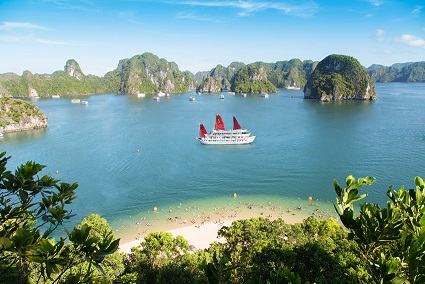 8:00 You will be picked up at your hotel. have 4 hours drive through Enjoy the peaceful scenery as we travel through the countryside, farmlands and Red River delta. On the way, you will have a short break in the middle of the way to relax and unwind.
12:30: Receptionists welcome guests at the Tuan Chau International Harbour.
12:45: Captain welcomes guests to Syrena cruises by tender. Check in whilst enjoy a welcome drink, safety briefing and check in cabin.
13:00: Leave Tuan Chau International Harbour, discover the Halong Bay - natural wonders of the world. Have lunch while cruising through famous sights including Ba Hang fishing village, Dinh Huong island, Cho Da islet, Ga Choi islet…
14:30: Cruise stops at Bo Nau Cave, the core area of the world natural heritage. Transfer by tender to the Surprise Cave – one of the most beautiful cave in Halong Bay.
15:45: Leaving Surprise cave, transfer by tender to the Titov island. Enjoy swimming, relaxing on the beach or climb the steps of the rock to the top of the island for photo taking. On the top of the mountain, you can see a corner of magical Halong Bay.
16:45: Back to the cruise. Relax and enjoy sunset on the sun deck. Cruising to the overnight anchorage.
18:00 – 19:00: Enjoy HAPPY HOUR from 18:00 – 19:00 - Buy one drink get one free (wine excluded).
18:30: Join the cooking class and learn how to cook Vietnamese traditional dishes.
19:00: Dinner is served with a variety of Vietnamese fusion cuisine.
20:30: Evening activities include:
- Film entertainment in the dining room.
- Squid fishing with our crew.
- Foot reflexology & massage (chargeable): please contact our cruise team to book the service.