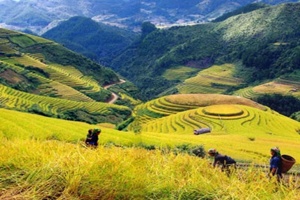 Get up in the morning for breakfast and check out the hotel room, your bags will be put in the hotel luggage store again.
We start the trip at 9 Am with the guide. We will
walk about
15
kilometers
, visit
three different villages belonging to the Black H'Mong , Dzay and Red Dzao people
. We guide you
along waterfalls
, rice fields and a small river in a lush valley with sweeping landscapes. This tour has the option of lunch in a minority home or
pack
lunch from the hotel at a picturesque location. We will get the pick up by van/ bus after visiting the last village.
Arriving at the hotel for shower and dinner. Our bus will pick you up at the hotel for the night train back to Hanoi ( time is at 4:30
Pm
or 6:00 Pm, depending on your train time and your wishes). Arrive at Lao Cai train station and take the night train back to Hanoi. O/N on deluxe wooden train cabin 4-berth with AC.