Tram's Cookery Restaurant & Bar is an upscale place, set next to the Saigon River, where you can enjoy traditional Vietnamese and western cuisine in a relaxing atmosphere or just have some drinks in tranquillity. It is part of the beautiful An Lam Riverside resort and a favourite of Saigon's 'elite' community and expats living in Vietnam. Either by speedboat or taxi it will respectively take roughly 20 or 35 minutes to get there from the city centre.
On the menu of Tram's Cookery Restaurant & Bar you will find all the best that Vietnam has to offer from fresh spring rolls, pomelo salad with pork or prawn, pho, and fried rice. Typical western cuisine, such as beef, fish, pizza and pasta, is also part of the menu. Highly recommended dishes include stir-fried beef luc lac with five spice sauce, seared foie gras, and grilled au beef tenderloin. A three-course meal without wine will cost you in the region of VND 800.000 (40$).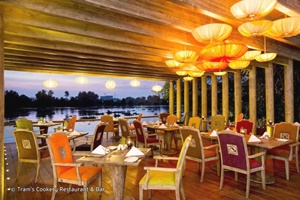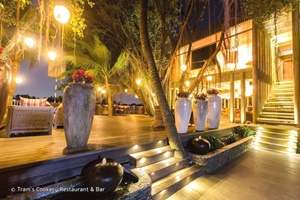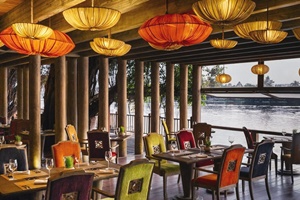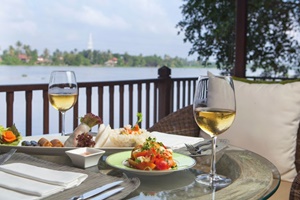 Arriving by speedboat is certainly the most glamourous way to reach Tram's Cookery Saigon and adds an extra special prelude to your meal. Upon arrival, you'll be greeted by a beautiful, palm-lined stretch of the Saigon River, and the elegant interior design of the An Lam Riverside Resort. It is advised to make a reservation, and when doing so, ask for one of the three tables in the 'Tram's Cookery' corner as these are the most romantic, quiet and have the best views.
Tram's Cookery Restaurant & Bar

Opening Hours: Orders until 21:30 and the bar stays open as long as the guests stay Address: 21/4 Khu Pho Trung, Vinh Phu Ward, Thuan An District, Binh Duong, Saigon River, Ho Chi Minh City, Vietnam
Tel: +84 650 378 5555
How to get there: Boat departure: Daily at 10:30, 15:00, 18:30, Bach Dang Pier in front of the Renaissance riverside hotel in district 1 (The service is free for guests of An Lam Riverside Resort while visitors are charged USD65 for a roundtrip)