The Pu Luong Nature Reserve is a naturally beautiful destination in Vietnam , a place off the beaten track with many exciting activities to relax and be close to nature!
In local Thai language, Phu Luong or Pu Luong means "the highest peak of the village." Pu Luong Nature Reserve was established in 1999 in Ba Thuoc District of Thanh Hoa Province, in the northwestern region of Vietnam and all his region of 17,662 ha, encompassing three districts of Hoa Binh Province, including Mai Chau, Tan Lake and Son Lake. The biodiversity value of this park is wonderful with its rich system of flora and fauna that has a close association with the Cuc Phuong National Park. The reserve is located along two parallel mountain ranges from northwest to southwest. The lush central valley is dotted with many traditional villages of Thai & Muong ethnic groups and vast expanses of agricultural land. The landscape is really beautiful and impressive.
Traveling to Pu Luong, nature lovers and vacationers can see the nature of the wooded hills, the vast valleys of stunning rice terraces and poetic villages, unspoilt rivers and waterfalls, towering mountain ranges, and more. The destination has a high altitude and vast expanses of evergreen tropical forest, the peaceful home for many floral and wildlife species. In addition, you will have the chance to meet friendly Thai and Muong local people who have lived there for a long time, getting to know their authentic way of life and their interesting cultures.

The area is a few miles from Mai Chau and is a bit alike, however far fewer tourists come to Pu Luong.
Trekking
A vast valley is home to many ethnic hill tribes, offering you many hiking routes to conquer. During a hike in the nature reserve, you will appreciate the nature, the magic hill, the colorful terraced rice fields and the poetic hamlet with very friendly inhabitants. For your interest and your health, you can choose a trekking route adapted to your needs. as an easy trek to the neighboring hamlets or the challenge at the top of Pu Luong and or the trekking of several days through several villages and trails off the beaten track.

Cycling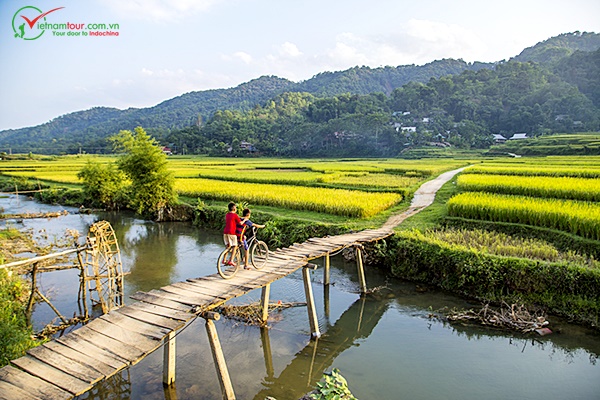 Cycling is one of the most authentic ways to explore Pu Luong's breathtaking views. Here, energetic bikers find steep valleys and remote bike trails on the scenic route. Once they have pedaled along the picturesque rice terraces, panoramic valley and passes, they feel like they are victorious and feel close to nature. It is possible to select the appropriate bike level from easy to moderate and advanced. In addition, it is easy to cycle through some local villages in the plains of Pu Luong.
Rafting
It is popular for locals to use the bamboo raft to cross rivers or fishing. Rafting allows you to become a fisherman for hours and navigate the bamboo rafts on the friendly river. You will really enjoy the peaceful feeling while floating across the beautiful Cham River. In addition, images of simple local farm life help calm your mind. If you wish, it is inspiring to have practical experience in the daily life of local fishermen. Make another trip with your paddle if you are active enough!

Kayak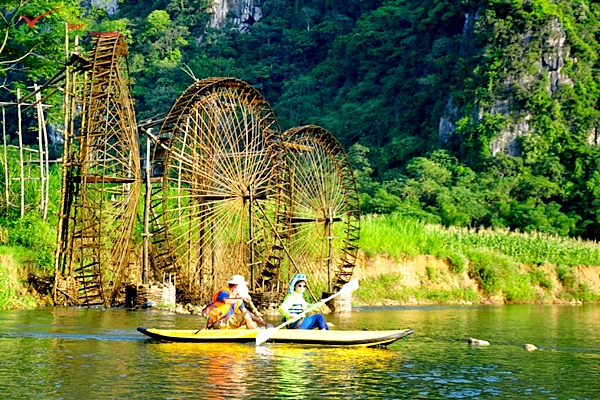 Easier than rafting, you will surely love kayaking in the Pu Luong River, especially during the rainy season. So, do not be reluctant to use the paddle to find your way through the beautiful landscape of the river, go through simple houses on stilts, catchy water wheels as well as green farmland. With rafting, kayaking allows you to touch and experience the aquatic world of Pu Luong.

Relaxation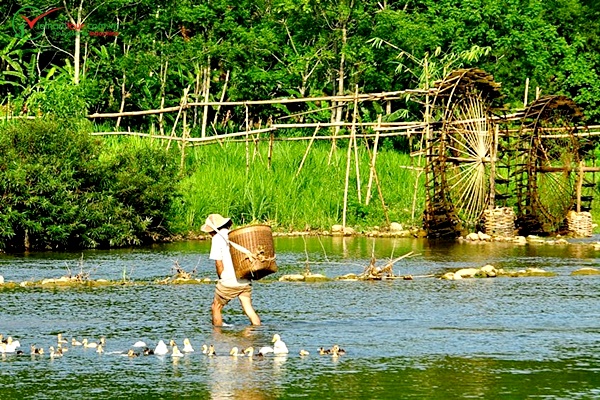 As Pu Luong is natural with impressive prospects to open the valleys and surrounding mountains, you can simply choose to relax in a resort or bungalow. The pure and harmonious atmosphere will inspire you to enjoy true relaxation. Here are some ideas to make: read fun books, drink a glass of wine at the pool, swim, sunbathe, walk in harmony with nature, garden or cultivate if you wish, etc. Since it's time to relax, do what you want to feel comfortable!