Traveling solo can certainly challenging but exciting. Yes, you might have to ask a stranger to take a photo of you in charming Hoi An or standing outside of the Angkor Wat, but it's a small price to pay for the freedom to have a trip exactly what you want. Is it great to plan all the activities you like instead of running around someone else's schedule? If you feel like staying at a beach-front villa. Book it. Want to quit a food tour for temple visit? You make your choice, girl.
So ladies, what are you waiting for? Let's consider going solo seriously when you want to tick a destination off your bucket list.
Here, a list of 3 best places for solo female travelers in Southeast Asia. Save it because you might need it sooner than you think.

1. Hue - Mystery
In term of safety, Vietnam is a safe country to travel around as a female solo traveler. Most of our clients added Hue into their itinerary. Like a journey back in time, you will see history, taste the flavor of royal dishes, and admire charms of beautiful nature.

A boat ride on the calm Perfume River is a must. It will take you through picturesque countrysides, stop and Thien Mu Pagoda, and Minh Mang Tomb - the most beautiful tomb in 7 tombs of Nguyen emperors. 10,000 men were required to complete this tomb in 3 years, from 1840 to 1843. You can say it's a perfect blend of majestic architecture, sublime forest, beautiful lotus ponds, and Zen-like gardens. It will take 40 minutes to an hour to visit, depending on how deep you want to go into history. We would recommend you to go with a guide to fully appreciate stories of it.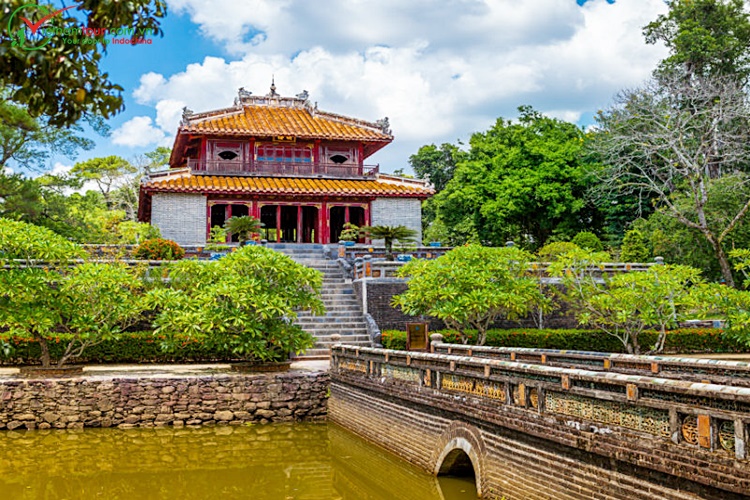 Minh Lau Pavilion at Minh Mang Tomb

Do yourself a favor and work with a leisure bike to Thanh Toan Bridge, which is 7 kilometers from the city center. You will ride pathways down the river, through the peaceful rural landscape and lovely villages where the children say "Hello" with big smiles. Once you arrive, sit on the tile-roofed bridge and discover a truly Hue through villagers relaxing on the bridge and a local market that is just a few steps away.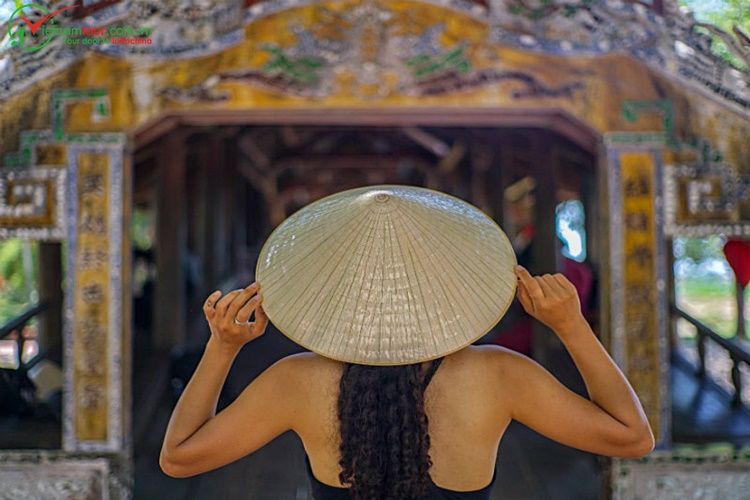 At the ancient Thanh Toan Bridge. Being solo can't stop you to have beautiful pictures.
2. Hoi An - Glamor
Unlike big cities which are flooded with millions of vehicles, Hoi An is a tranquil and slow-paced town that steals your heart with small beautiful things.
Because motors are banned in the center, it's lovely to take a stroll on narrow streets, admire iconic yellow merchant houses, the well preserved 16th-century Japanese Covered Bridge, Cantonese Assembly Halls, and temples for which the town has been declared as UNESCO World Heritage Site. On a sunny day, you'll find many beautiful corners for pictures. Come back in the evening for a romantic look. When all the lanterns hanging overhead in front of every house are lit up, the old town becomes a magical fairyland at dusk.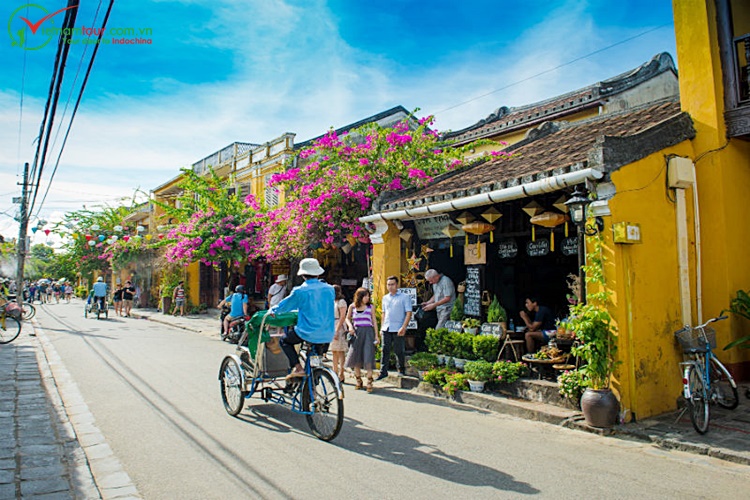 Hop on a trishaw to discover the little old town Hoi An....

Tra Que Village is a lovely diversion from Hoi An. Hope on your bike, ride to the countryside and learn how the locals grow vegetables and herbs for local restaurants. If you have time, join a cooking class to create some of the most famous dishes of Vietnamese cuisine. If you don't, just taste the delicious food in one of many local restaurants in town. Banh Mi Phuong - that appeared on the show No Reservations of Anthony Bourdain, Cao Lau, Quang Noodle, Chicken Rice are some of the names you would be delightful to enjoy. Shopping in Hoi An is never a bad idea. This town has many things that you want to bring home.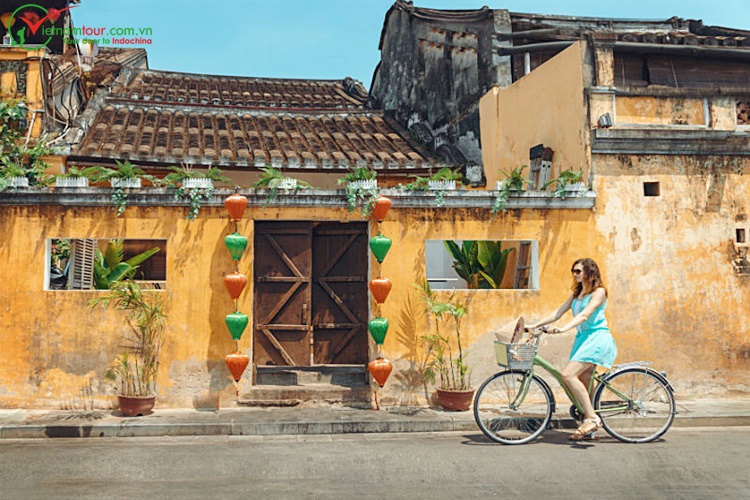 ... or rent a bike and cycle around, it's all about your choice.
3. Siem Reap - Adventure
For any female who is hesitant about traveling solo to Siem Reap, don't be. Some of our clients said they felt safe during their trips. Cambodian is friendly and helpful.

The Angkor Complex itself lives up to all of the hype. There are around 50 temples dating back to the 12th century in the Angkor Archaeological Park, but a visit to some of the most infamous is enough to fulfill your sense of temple adventure. Drive to Angkor Wat early in the morning (at around 5:30 AM) for a breathtaking sunrise when the color changes the sky from deep purple to bright orange. Then go to the Ta Prohm that was the scene for Tomb Rider movie to be awe with giant tree roots growing from the ruins. Visit the 10th century Banteay Srei that is built largely of red sandstone and known for its intricacy of devatas carvings into the walls. And of course, don't miss the Bayon Temple that is so-called Face Temple because of its giant mysterious smiling face statues. Until now, Bayon is still covered in mysteries of to whom it worships. To relax your legs after a full day trekking from temple to temple, head to Pub Street - a hotspot of the city. Surrounded by bars, cafe, and restaurants, it's easy to catch up with some new friends and live up your night.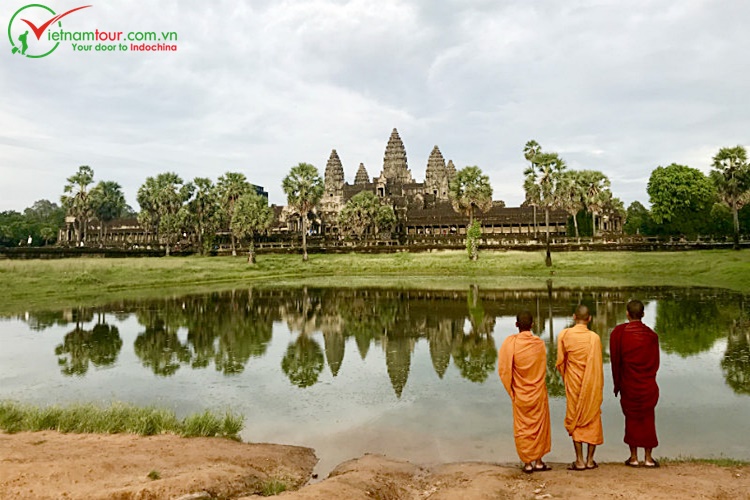 Take your time to soak in the world's largest religious monument and the daily life in Siem Reap...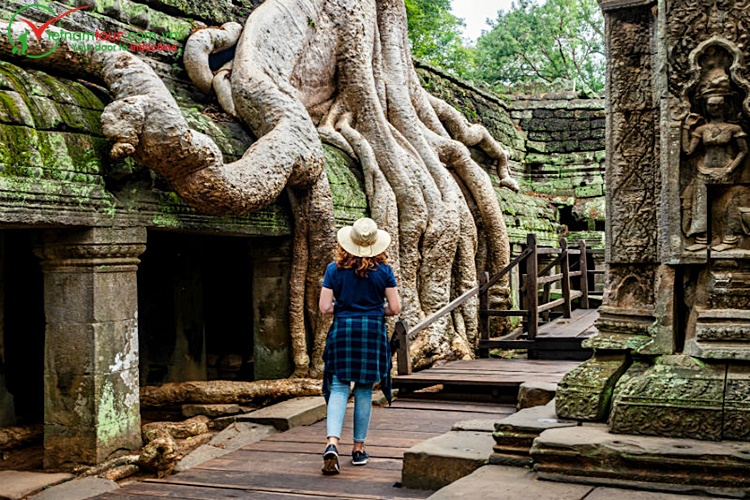 Because there is always next time as this is somewhere we would hope to return