Tours included Nha Trang:
Nha Trang beach vacation 4 days 3 nights
Southern beaches and mountains 6 days 5 nights
Southern beaches vacations 8 days 7 nights
Best beaches of Vietnam 10 days 9 nights

Khanh Hoa is a South Central Coastal province of Vietnam. It is well known by the attractive beauty of its own capital – Nha Trang. Among its 3 bays, Nha Trang ranks first thanks to 100% pristine beaches, excellent view, gorgeous islands, mountains, and rivers.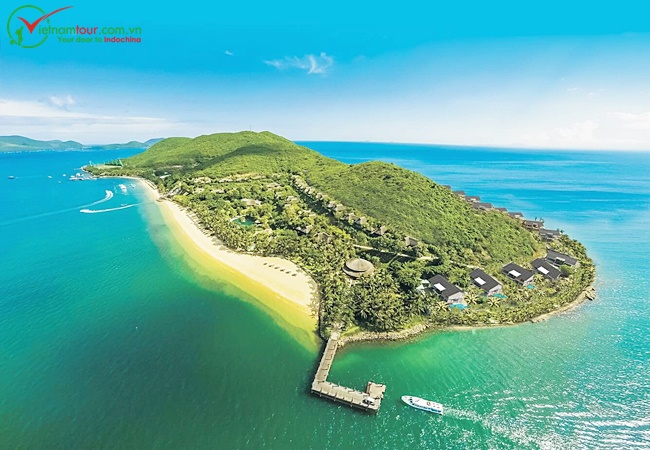 Nha Trang beach

Nha Trang not only gets great natural advantages of its geography position, landscape, and climate, but inherits its rich background in culture and humanities as well. Although it is 1,280 km far away from Hanoi and 448 km from Ho Chi Minh city, it is easily accessible for tourists by all means of transport: by road, rail, air and waterway.

History

Until the middle of the 19th century, Nha Trang had still been a deserted area with wildlife animals like tigers, and was a part of Hà Bạc, Vĩnh Xương District, Diên Khánh Province. Nha Trang officially became a center urbain under the Indochina Governor General's decision issued on the 30th August 1924. After only 2 decades of early 20nd century, Nha Trang underwent rapid changes and became today's Nha Trang city – a marvellous picture with old view but modern and fresh environmental city of Khanh Hoa.

The name of the city - "Nha Trang" - derives from a false Vietnamese spelling of a geographical name in the Cham language of the site Ya Trang, (which litterrally means Lau River, the name of the now Cai River as referred to by the Cham people). From this, the name was adopted to call what is now Nha Trang.

Natural conditions
Nha Trang is known as a sea city with a great long beach and a lot of islands, making the city different and outstanding from any other cities of Vietnam. With 19 islands, Nha Trang is famous with beautiful view and different species living inside (such as the Monkey Island). People also live there, specifically around 2,500 households and 15,000 persons. The biggest island is Hon Tre with 36 square kilometer, being laid far far away in the distant sea, bringing Nha Trang Bay the impression of being out-of-the-wind, "all calm and still".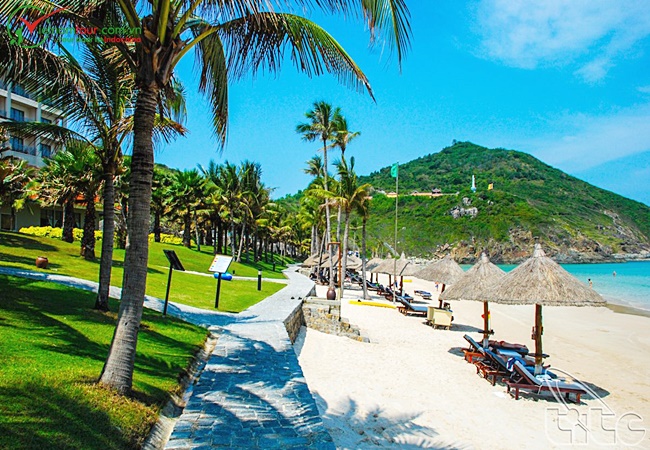 Nha Trang resort
Concurrently on mentioning about Nha Trang Bay, there is a small story to tell. One of my friend from Japan, Sono Kimura, who has just come to Vietnam for language and culture study, asked me to bring him to somewhere in the country that has 100% pristine sea sight but modern services as well. Of course I brought him to Nha Trang Bay. Sono spent much time on leisuring around most fastinating rocklands, coral beaches, sand banks, mysterious caves and islands. " Wow, all is 100% prestine but fresh, beautiful and enchanting, making tourists feel like falling in love with… nature", passionately said Sono. Then, when coming back, he decided to apply for 1 more course, Oceangraphy, his new "love".

Cultural values
Nha Trang is famous for natural beauty, therefore, most great Beauty Contests of Vietnam and some of the World have selected this city to be the performance place. Nha Trang people are now very proud to witness the greatest Beauty Contest of both Vietnam and the World to take place here. For the past years, Miss Vietnam and Miss Earth have occurred in Nha Trang. More importantly and proudly for Nha Trang in particular and Vietnam in general, Nha Trang (to be exact, Vinpearl Land (which means Vietnam's Pearl) – the 5-star resort of the city) was selected for the "Miss Universe Pageant 2008".

Another cultural activity is sea festival. Sea Festival is held anually, and August-Nha Trang Rendezvous Festival is held every 2 years absorb numerous tourists. All the festivals fully cover sea food, arts and activities like Sea-Food Zone, Sea Night Carnaval, ect., and some exhibitions about Cham Brocade Textile, Arranging Art, and so on. If you would like to get to know about this City, please come and join them on any of those occasions.

The culinary offer in Nha Trang is very varied, which are the reasons tourists enjoy their stay in Nha Trang. One of Nha Trang's most valuable specialities is "yen sao" (translated as "salangane"), "nhím biển" (translated "sea-chesnut"), "cầu gai"…, which make this sea city special. A salangane is not a swift or swallow. It builds its nest with its saliva. The salangane was associated with royal banquets in the past, and with expensive formal parties today. In the past, salangane was an "ideal precious age prolongging medicine" for Kings.

Apart from Seafood, Nha Trang has many other delicious special delicacies, such as Ninh Hoa dried Spring Rolls (Nem nướng Ninh Hoà), Fish noodle (Bún cá), Canh cakes (Bánh Canh), etc., containing the characteristics of the land. Some scholar once said: "Special food or delicacies reveal their genuin land in the most lively way".

Sea Entertainment & Places of Interest
If you are a young active person, longing for sports activities to refresh your mind, you have chosen the right place. Nha Trang has a wealth of tourist activities for visitors, for example, boat sailing, island hopping, scuba diving, etc. are performed in Nha Trang. Scuba diving is one amongst the most interesting, mysterious and unique sports sea games in Vietnam in general and Nha Trang in particular. If you prefer sky to sea bed, you could join kite boarding. Winds are steady but don't expect to get up on one hull too often. For luxury stay, high-quality services and interesting sea activities and games, Vinpearl might be an ideal destination. The 5-star resort is located on Hon Tre Island off the coast of Nha Trang City. It is considered one of the top 29 most beautiful bays in the world, there is a tropical paradise waiting to be found, one of Asia's best kept secrets.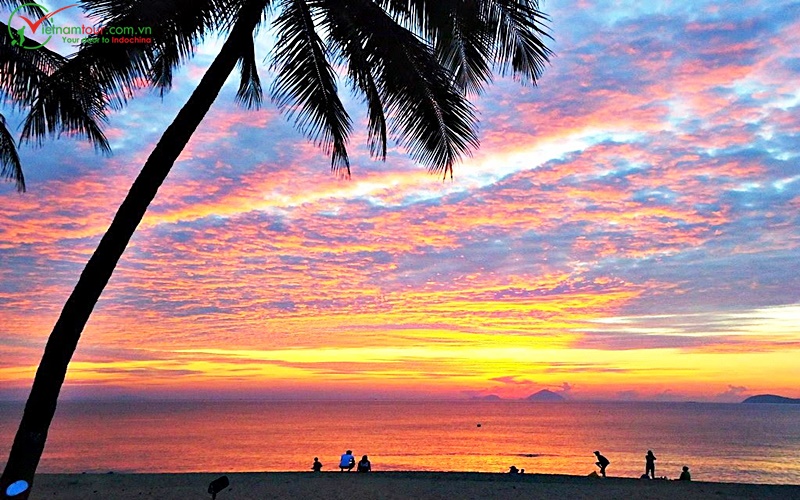 Nha Trang beach
If you are more quiet, and would like to discover natural scenes, you could spend time on sight-seeing tours. There are a lot of beautiful sea sights here, such as Hòn Chồng Island, Hòn Tằm Island, Hòn Mun Island, Hòn Con Sẻ Tre Island, Hòn Ông Island, Monkey Island, Đảo Yến Island (Swallow Island), Thuỷ cung (sea palace), Thap Ba Spring, and Ba Ho Waterfall. All the islands are scattered around the bay, and again, 100% pristine and beautiful. Each name reveals the island itself's main traits, for example, Monkey Island, where there exists hundreds of monkeys, or Swallow Island, which has a number of swallow species, the rich source of salangane ("Yến sào"). And the others'name express the islands' shapes. Hon Noi Island is the most beautiful island of swallow, which you really have to come and see to have a brief real understanding of Vietnam's traditional precious salagane-making industry.

If you are a scholor coming here to discover historical sides, you must drop by Tháp Bà Ponagar (a Champa Tower), Palace of King Bảo Đại, Long Sơn pagoda, Đá Hang pagoda, Kim Thân Phật Tổ Statute, Nha Trang Oceanography Institute, the largest of its kind in Indochina where thousands of oceanic life samples, exhibits are on display. It is also home to the largest oceanic library in Vietnam, Chánh Tọa Church (or Mountain Church), Nha Trang Pasteur Institute, Trí Nguyên Aquarium (an aquarium where hundreds of rare oceanic species are fed), and so forth.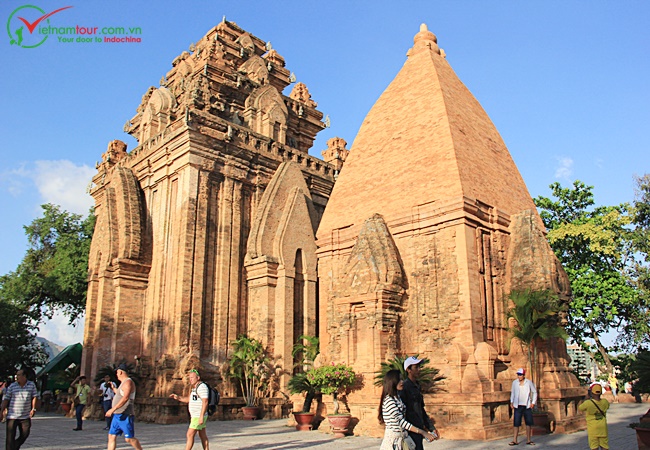 Ponagar tower
The city is now fast becoming a popular destination for international tourists, attracting large numbers of backpackers and more affluent travelers as well. Are you going to visit the South Beaches of Vietnam? Well, the foremost summer advice is "Nha Trang"!