Hanoi city - the capital of thousands of years of civilization attracts tourists thanks to its ancient and peaceful beauty. With each season, this charming city has its own distinctive beauty following to what Hanoi weather is.
1. Spring in Hanoi
The spring in Hanoi city is the period from February to April. The average temperature is about 18ºC.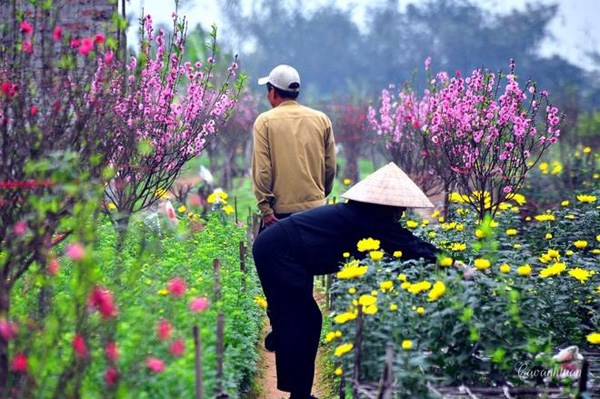 - Tet holiday occurs in this time so that there are many tourists will take visit to the city at that time to experience the bustling atmosphere of Hanoi streets, especially Hanoi Old Quarter.

-

Many interesting festivals, as well as many special programs, also will be held in this time, which are worth to take a visit. However, if going to Hanoi city at this time, tourists should pay attention to the price of services to avoid the price increasing and the case train tickets sold out.
2. Summer in Hanoi city
Summer in Hanoi is often from May to July. The average temperature is about 23-24ºC. The temperature in this season can reach 42 ºC in the hottest day.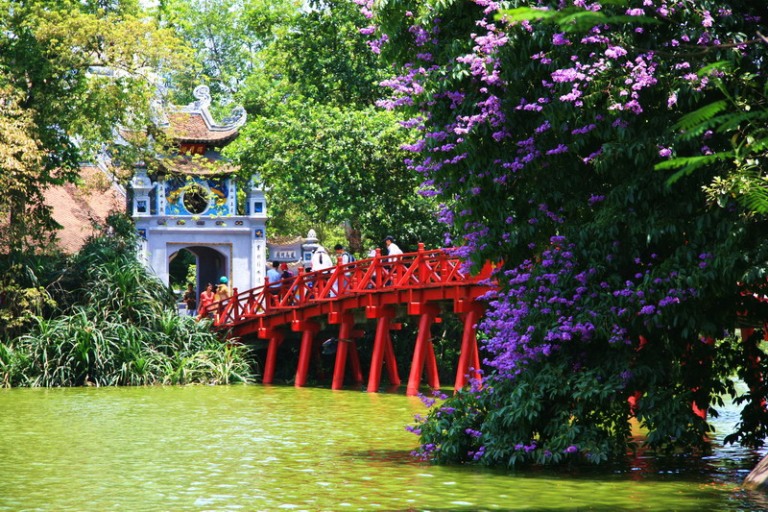 - Hanoi's streets often have few passers-by going out their houses at the middle of the hottest day as the heat is very hot. However, the Hanoi scenery is covered by a lot of green plants to alleviate the summer heat. The summer is also the time of rainy season in Hanoi. The heat waves and heavy rains often interweave at that time. The rains usually occur in the late afternoon and they cool off the heat. Therefore, it is note that travellers should prepare umbrella or raincoats before going out.
- There are many types of fresh and delicious fruits sold in the streets of Hanoi city at that time. This time is also the season of lotus flower, poinciana flower. Lotus pond in West Lake is the favorite place that the Hanoian youth often come and take photos with the blossoming beautiful lotus flowers.

3. Hanoi weather in autumn
Autumn, which occurs from August to November, is often considered as one of the best period of time to visit Hanoi city. The average temperature is about 20ºC. It is cooler than the one in summer.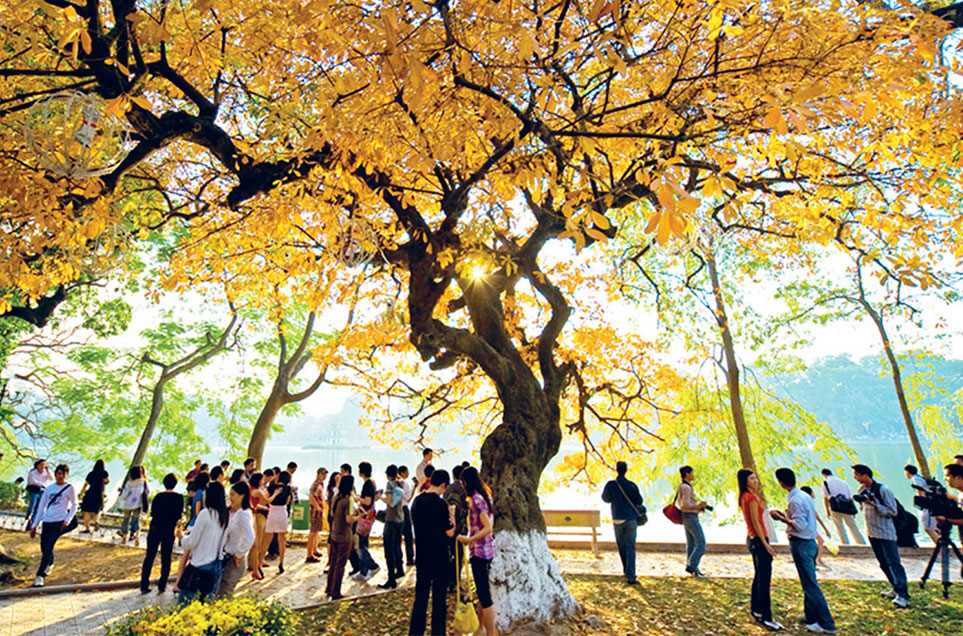 - At that time, rainy season in Hanoi usually ends; the sky is blue and the sunlight is not too harsh; the temperature is pleasant and the air is cool. All the above weather factors create the best conditions for visitors to have a great trip to Hanoi.


- Coming to Hanoi city at that time, travelers will have chance to behold thousands species of flowers blooming as tourists can meet the street vendors selling the fresh and colorful flowers in every corners of Hanoi streets. Besides beholding the beautiful flowers, arriving in Hanoi in the autumn, visitors also can enjoy many delicious specialties in Hanoi such as "com" (a specialty made from young rice), dracontomelon and so on.


4. Winter in Hanoi city
Hanoi weather in winter is cold and sometimes wet because of drizzle. The average temperature is approximately 15ºC in this season.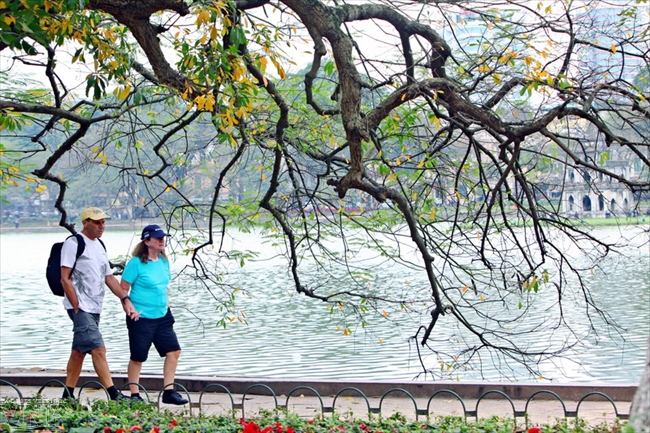 - It often occurs from November to January in the next year. The Hanoi's scenery of winter is charming with its own beauty. Its cold weather and featured ambiance of winter attracts a lot of both domestic and foreign tourists.
- Tasting hot or spicy street foods in the cold weather is one of favorite things to do in winter of Hanoi people. The stores or vendors selling street foods are often crowded in this season. If you travel Hanoi city at that time and want to experience winter like a Hanoian does, do not miss out on trying this thing.

Unlike Saigon's weather with two distinct seasons (dry season and rainy season), Hanoi weather has more status with four seasons. Each season in Hanoi has an enchanted beauty that brings for travelers different feelings and experiences. Come and feel it like the Hanoian do, that will be unforgettable.