1. Taking kayak trip
Halong Bay has been rated as one of the top 25 kayaking destinations in the world by National Geographic Adventures. Therefore, taking a kayak trip is one of the greatest travel experiences visitors must try when heading to Halong bay. Sitting on the boat, rowing kayak on the crystal blue water while beholding the majestic and pristine natural scenery, that all will be an unforgettable experience in Halong bay. This outdoor activity will lead tourists to untouched sites in this bay such as beaches or caves that are off the beaten path.
2. Taking a Halong overnight cruise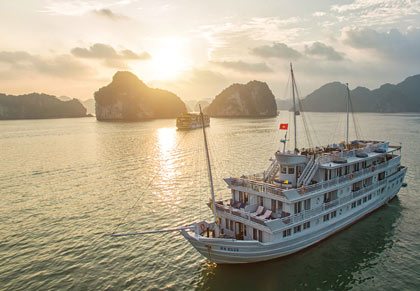 Halong's cruise liner is designed as a miniature hotel as it has its own full- equipped and clean rooms. It is very interesting that tourists can relax in the luxury room while beholding the majestic natural landscape of the bay. Taking sunbath on the desk boat with a cup of cocktail on hand to enjoy; sitting on the desk boat to watch the amazing night sky at the bay, that all will be great experiences for a journey.
3. Taking a seaplane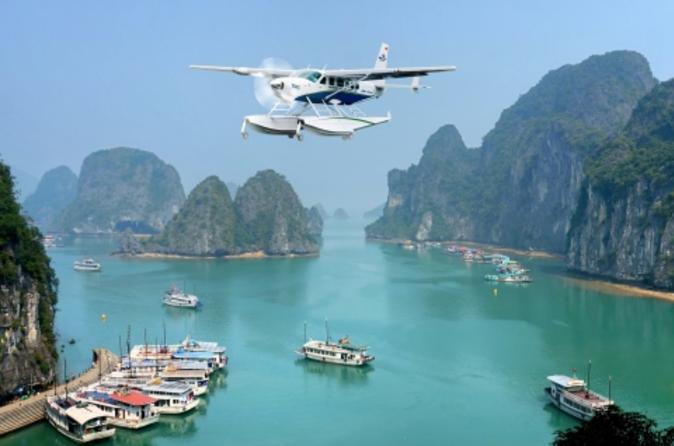 Getting a bird's eye view of Halong bay via seaplane will bring for tourists an unforgettable experience. The airplane has 2 seats for pilot and 12 seats for passengers and spacious windows, allowing passengers to enjoy the majestic overview from the plane and capture the memorable moments of Halong Bay. In particular, Halong's seaplane has been voted as one of the most attractive tourist services in 2015 by The New York Times (USA).
4. Climbing on cliffs in Halong bay
Besides the charming beauty of romantic and alluring natural scenery, Halong bay also owns diverse and rugged terrain with towering limestone cliffs, which is a challenge for travelers who love climbing. Its thorny cliffs and the glorious mountains and caves will give those who are big fan of this adventurous sport a sense of longing to conquer.
5. Swimming in the bay
Halong bay owns a lot of stunning beaches with stretching white sand, crystal and clean water, calm waves so that this is the perfect place for visitors to enjoy and explore the wild beauty of the bay through swimming. Ti Top beach, Bai Chay beach, Tuan Chau beach, Ngoc Vung beach and Quan Lan beach are some of the popular sites in the bay, which are worth to be an ideal place to swim.
6. Exploring the beautiful caves of Halong bay
The attractive destination is well-known for its majestic and unique caves. Each cave in Halong bay has its own interesting name that suggest the curiosity to discover such as Thien Cung cave, Sung Sot cave, Luon cave, Dau Go cave, Hanh cave.
7. Adventuring to fishing village on the beach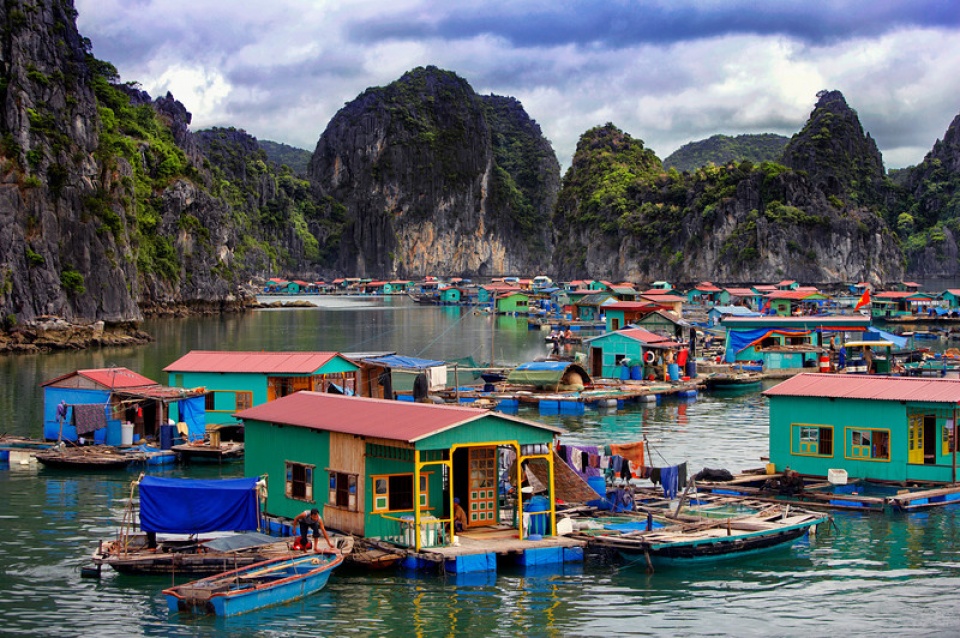 Staying away from the shimmering, luxuriant light of the city center, the hustle and bustle of the city, the coastal fishing villages in Ha Long are peaceful and nice destinations – interesting stops for tourists. Vung Vieng fishing village, Cua Van fishing village, Ba Hang fishing village are great places for travelers to take visit.
8. Halong Queen Cable Car
Halong cable car system is located in a complex of entertainment project, which stretches along Bai Chay beach to Ba Deo Hill (Hon Gai). With 188.8 m in height, the tower built in Bai Chay set the record as the tallest tower in the world. The cable car system has only two cabins with a capacity of 230 people per cabin. This attraction opens up the opportunity for tourists to admire the Halong's spectacular seascape and landscape from above.
9. Experiencing Sun Wheel
Placed in Sun World Halong Park, the Sun Wheel in Halong bay is listed as one of the largest rotation in Vietnam, with an impressive height, up to 215 m over sea level. The services are not too expensive as the view from the Sun Wheel is extremely amazing. Staying in this enormous wheel and waiting enough, travelers will have opportunity to enjoy a magnificent sunset or spectacular city-scape or views of the surrounding terrain. The Sun Wheel is also considered as the highlight of Halong city.
In a nutshell, Halong bay has its own numerous and diverse delightful highlights that are great to explore. Following to these above experiences, travelers will be dived into the local culture of the bay.